Batman: Arkham Knight PC Version Is Getting Another Patch Soon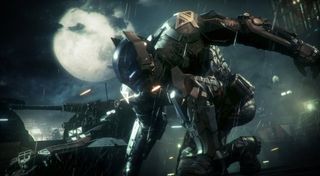 Rocksteady is releasing an interim patch to help address some of the issues in Batman: Arkham Knight leading up to major patch overhaul due for release this August. The interim patch contains some very important fixes for gamers who already own a copy of the PC version of Batman: Arkham Knight.
PC Invasion spotted a recent update from Rocksteady over on the Steam update thread where they announced what sort of new fixes they're implementing for a game that launched very broken for PC.
Some of the updates for the August patch will include enabling the option of playing above 30fps. This is one of those games that has been listed by The Framerate Police as previously being in violation of hard-locking PC players to only 30fps.
The low-resolution texture bug that would force the graphics down to lower settings than usual is also expected to be fixed, along with the Nvidia SLI bug. Speaking of Nvidia – both Nvidia and AMD will have SLI and Crossfire support properly implemented in the new patch as well. And to ensure that they don't bug out, the VRAM bug that was causing the game to perform very poorly will also be addressed.
As for the latest interim update, it includes a fix for a crash that was occurring when exiting the game. Although, if there's something to be said for crashes it's probably best that they occur when you're exiting the game as opposed to when you're trying to save the game or finish a mission.
They also fixed a bug that disabled rain and ambient occlusion effects. That's a very harmless bug... disabling taxing post-processing effects like that. Usually bugs do the opposite: create a lot of tax on the hardware.
One of the most egregious problems with the PC version of Batman: Arkham Knight – outside of the game's poor frame-rate and performance issues – was a bug that caused the game to completely re-download the entire thing whenever players would attempt to verify the integrity of the game cache. Ouch.
If you're the kind of gamer dealing with caps and bandwidth limitations, the last thing you need is a game that's north of 45GB constantly re-downloading anytime it has a file verification.
It's a real shame that Batman: Arkham Knight launched in such a broken state on PC. At the moment the game is still unavailable for purchase for PC as Warner Bros had to halt sales while Rocksteady Studios stepped in to fix up and patch up the game.
The tentative reestablishment of sales for the PC version of Warner Bros' latest Batman is expected to begin once again this fall. After refunds came in fast and heavy for the AAA game this summer, Warner Bros., didn't waste any time in halting the game sales after a bevy of negative reviews flooded the Steam store indicating that the game was next to nigh unplayable for anyone who didn't have the most high-end of PCs. What's more is that supposedly a report indicated that Warner Bros., knew about these issues but ignored the QA's attempts to address the problems before release. Well, they're being addressed now.
Staff Writer at CinemaBlend.
Your Daily Blend of Entertainment News
Thank you for signing up to CinemaBlend. You will receive a verification email shortly.
There was a problem. Please refresh the page and try again.