Batman: Arkham Knight Release Date Leaked By Microsoft Store?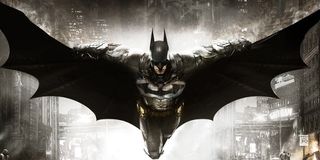 The mystery of Batman: Arkham Knight's release date may have been solved. Gamers noticed that the Microsoft Store is now listing a February release date for the open-world action game.
The Microsoft Store (opens in new tab)'s listing for Arkham Knight says that the game will launch on February 24th, 2015. It does sound like a plausible date. February 24th is a Tuesday, the day of the week when games traditionally launch in North America.
The date is mentioned on the PC (opens in new tab) and Xbox One listings of the game. That should be a relief to PC gamers. They sometimes get shafted on multiplatforms releases, with the game hitting their platform weeks or months after consoles. Presumably February 24th applies to the PS4 version of Arkham Knight as well. Here are screengrabs of the Microsoft Store in case the listing gets edited:
Batman: Arkham Knight was first announced for a late 2014 release. However, Rocksteady confirmed with the Batmobile trailer that they had pushed the launch back to 2015.
"Now Batman: Arkham Knight is totally awesome," Rocksteady's Dax Ginn said in a Kotaku interview regarding the delay. "The thing about awesome, though, is awesome takes time. And totally awesome takes a lot of time. So in collaboration with our colleagues at Warner Bros Interactive Entertainment and DC Comics, we have decided to extend the development time of Batman: Arkham Knight."
"The very simple reason for doing this is to ensure we are delivering the awesome level of quality that Batman fans and gamers expect from this, the final episode and the epic conclusion to the Rocksteady Arkham trilogy."
Late February usually doesn't see a lot of big releases. Many publishers wait until March or later to start rolling out their big releases, perhaps to keep distance from the big holiday season launches. However, February 2015 is getting awfully crowded. The Order 1886 and Witcher 3 have been confirmed for February 20th and February 24th, respectively.
Batman: Arkham Knight pits Batman against a group of supervillains, led by Scarecrow. The villains have taken over all of Gotham and turned the city into a warzone. Batman can hop behind the wheel of the Batmobile for the first time in the Arkham series to take out the enemy's heavy artillery or quickly travel Gotham. This will also be the first game in the series not released on Xbox 360 or PS3.
Your Daily Blend of Entertainment News
Staff Writer at CinemaBlend.