Batman: Arkham Knight Revealed For PS4, Xbox One And PC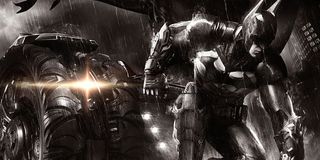 Rocksteady Studios' next game is Batman: Arkham Knight, a next-gen sequel to Arkham City and Arkham Asylum. A retailer has leaked key story and gameplay details on the game along with the official box art.
A report in 2012 said that Rocksteady was working on a Silver Age prequel. However, Arkham Knight is actually set after the events of the first two games.
"In the explosive finale to the Arkham series, Batman faces the ultimate threat against the city he is sworn to protect," says the Game.co.uk listing (via NeoGAF). "The Scarecrow returns to unite an impressive roster of super villains, including Penguin, Two-Face and Harley Quinn, to destroy The Dark Knight forever."
Wow, the finale? I'm really surprised to hear that Rocksteady's going to be moving on from Arkham. Are they leaving Batman behind, too?
Rocksteady's first two Arkham games were limited to an insane asylum and a walled-off section of Gotham. However, Arkham Knight will allow players to explore "the entirety of Gotham City." They'll have a quick way to traverse the city, too. The Batmobile will be drivable for the first time in the series.
The box art reveals that the game is coming to PC, Xbox One and PS4. Harley Quinn is a pre-order bonus for all three platforms. Players can make use of her distinct weapons and abilities across four challenge maps.
Arkham Knight's box art also gives us a glimpse at the new Batmobile. It's not quite as unorthodox as the Tumbler from the recent Batman films but it's just as beefy. It looks like it can win a game of chicken against a tank. I imagine it's loaded with all sorts of interesting weapons too so you won't need to just ram enemies.
The release date wasn't mentioned by the retailer. However, the fact that they've already got the box art and pre-order bonuses together suggests that the game could be out by the end of the year.
Rocksteady has been developing Arkham Knight since releasing Arkham City in 2011. The most recent game in the series, Arkham Origins, was handled by WB Games Montreal.
Update: The game has been officially announced by Warner Bros. It's the cover story for Game Informer's new issue. The only platforms are PS4, Xbox One and PC. You won't be able to play on Xbox 360 or PS3. GI also confirms that the game is coming in 2014.
Image 1 of 3
Your Daily Blend of Entertainment News
Staff Writer at CinemaBlend.
Your Daily Blend of Entertainment News
Thank you for signing up to CinemaBlend. You will receive a verification email shortly.
There was a problem. Please refresh the page and try again.