Battlefield: Hardline Didn't Have Any Problems Hitting 1080p On Xbox One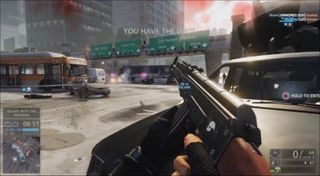 Visceral Games recently revealed that Battlefield: Hardline for the Xbox One wasn't a troublesome production when it came to hitting 1080p for Microsoft's system. In fact, the team's biggest challenge was taking on the task of dealing with the game's multiplayer.
GamingBolt managed to get in word with the creative director for Battlefield: Hardline, Ian Milham. They asked about a couple of different things regarding the development of the game, but most importantly whether or not it was difficult for the Xbox One to achieve parity with the PS4 when it comes to hitting 1080p at 60fps.
According to Milham, the Xbox One's eSRAM wasn't much of an issue, even though previously some developers mentioned that it was too small to conveniently hit native 1080p. When asked if the small amount of eSRAM gave the team any sort of problems, Milham stated that...
It should be noted that the Xbox One can and does hit 1080p, but usually at the cost of graphical fidelity.
While Wolfenstein: The New Order also hit native 1080p at 60fps, it does so at a variable rate. The game's id Tech engine would scale the game according to what was happening on the screen. So it wasn't constant 1080p, as revealed in Digital Foundry's performance analysis.
It is possible to hit 1080p on the Xbox One, just not with very hard-hitting games. Even with Battlefield: Hardline, the game is no where near as visually intensive as Battlefield 4, which is what cropped up plenty of complaints from gamers that this $60 title looks more like a fan-made mod.
The reality is that if mod support hadn't been stricken from the books, it's very likely that Hardline could have been a total conversion mod for Battlefield 4. Funnily enough, I'm sure EA and DICE would have also received tons of praise for allowing for mods and it actually would have bolstered the general appeal of Battlefield 4, sort of like how mods continue to keep Garry's Mod selling without any marketing, or how user-generated content keeps Team Fortress 2 fairly profitable.
Anyway, GamingBolt was told by Milham that the biggest hurdle the team ran into was with the multiplayer features, with the creative director saying...
Battlefield: Hardline has been going through beta testing lately, as it preps for its release this fall. Pre-orders for Hardline have not been pretty and petitions have cropped up as fans rally against the game, but EA is still moving forward with its fall release on old-gen and new-gen consoles.
Staff Writer at CinemaBlend.
Your Daily Blend of Entertainment News
Thank you for signing up to CinemaBlend. You will receive a verification email shortly.
There was a problem. Please refresh the page and try again.