Xbox One's eSRAM Too Small For 1080p, Says Sniper Elite Dev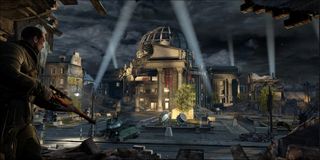 Rebellion Games' Jean-Baptiste Bolcato, a developer for the upcoming release of Sniper Elite 3 for the Xbox One and PS4, had a very candid conversation with Gaming Bolt, and he basically explained why 1080p has been such a hard pot of gold to attain at the end of a fickle rainbow for so many other studios.
Gaming Bolt's first-half of the article doles out more dolor than a funeral parlor sitting next to a hospice. Bolcato explains the differences and limitations between the Xbox One and PS4, firmly confirming NeoGaf user CBOAT's claims that the Xbox One wasn't going to be able to hit 1080p in games due to the eSRAM, saying...
Sadly, this is not an exception or rarity. This is the norm.
Call of Duty: Ghosts was relegated to 720p, Assassin's Creed IV was 900p, Battlefield 4 was 720p, Ryse was relegated to 900p and even Capcom's Xbox One exclusive, Dead Rising 3, was 720p. The only game hitting 1080p at 60fps was a heavily downgraded Forza Motorsport 5, with the team exchanging a lot of graphics fidelity in order to maintain the Holy Grail of eighth-gen gaming.
Bolcato goes on to explain that Microsoft has released a new development kit for the Xbox One, with companion patches inbound for users, all in hopes of improving performance over the console's lifespan...
That's a strange thing to say given that in tests done by Digital Foundry, they found that the PS4 was better for multimedia over the Xbox One. Damage control much?
Bolcato finished things off on a positive note, though, saying...
Don't take Bolcato's hopes at face value. While Microsoft may be iterating the Xbox One, Sony will be doing the same with the PS4. That's not to mention that the PS4 consistently outperforms its competitor in the graphics benchmarks, as well as the CPU benchmarks.
Ashan "Thuway" Rasheed had later corroborated CBOAT's claims, stating that the Xbox One would be behind the PS4 throughout the entire generation due to the eSRAM issues and the performance gaps between the two consoles.
I mean, you can't optimize weaker hardware to outperform stronger hardware. One user named Sarcasm aptly stated in the comment section...
Truer words have never been spoken.
Your Daily Blend of Entertainment News
Staff Writer at CinemaBlend.
Your Daily Blend of Entertainment News
Thank you for signing up to CinemaBlend. You will receive a verification email shortly.
There was a problem. Please refresh the page and try again.