BioShock Infinite Burial At Sea DLC Launching In November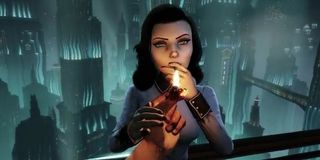 Burial at Sea - Episode One, the first story-based downloadable content for BioShock Infinite will make its debut on November 12th. Burial is a two-part adventure set within the underwater city of Rapture.
Rapture is the dystopia featured in the first two BioShock games. It was founded by Andrew Ryan, a tycoon who wanted a society where the elite could live and work outside of government control. As anyone who played BioShock and BioShock 2 knows, this ideal society quickly soured.
The first episode of Burial at Sea takes place on New Year's Eve in 1959 - the day that the city erupted into all-out war. Booker and Elizabeth star as a private investigator and his client living in Rapture. They're unaware, at least at first, of their prior relationship from BioShock Infinite's campaign. Players will also run into some "old friends" from the original BioShock.
Irrational Games completely rebuilt Rapture using BioShock Infinite's game engine. They've also brought back some familiar elements from the first two BioShock installments, including the weapon wheel and plasmids. An "old favorite" from the first BioShock will make a comeback as well.
"This is a love letter to the fans, but it's also the beginning of a story that will give gamers a new perspective on the BioShock universe," said Ken Levine, creative director of Irrational Games.
The second episode of Burial at Sea is currently undated but we already know a fair amount about it. Episode 2 will allow players to become Elizabeth and use her time/space manipulation powers. Because she's not a soldier like Booker, she'll have to use stealth and cunning to survive.
Burial at Sea and Clash in the Clouds can be unlocked all at once with the game's $20 Season Pass. Clash, released in July, includes four combat trials set in Columbia. By completing 60 challenges, players can unlock new audio and video logs as well as concept art. The Season Pass also provides access to the Early Bird Special Pack, a bundle of upgrades, weapon skins and attribute boosts.
Staff Writer at CinemaBlend.
Your Daily Blend of Entertainment News
Thank you for signing up to CinemaBlend. You will receive a verification email shortly.
There was a problem. Please refresh the page and try again.