BioShock Infinite Release Date Is Too Far Away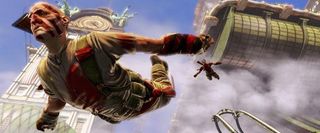 Today 2K revealed the release dates for Irrational Games' BioShock Infinite. Unfortunately the first-person shooter won't be arriving until the end of 2012.
Infinite will hit North America on October 16th. The international launch is set for October 19th. Irrational plans to release the game on the PS3, Xbox 360 and PC on those dates.
"After BioShock, we had a vision for a follow up that dwarfed the original in scope and ambition," said Irrational creative director Ken Levine. "BioShock Infinite has been our sole focus for the last four years, and we can't wait for fans to get their hands on it."
Infinite doesn't return to the city of Rapture from the first two games. Instead, it introduces a new setting: the sky-city of Columbia. This floating marvel was built as a tribute to American exceptionalism but the inhabitants soon split into warring factions. Former Pinkerton agent must infiltrate this war-torn city and rescue Elizabeth, a woman with a mysterious ability.
What little we've seen of the game so far looks incredible. Columbia seems like it will be just as fun to explore as Rapture was back in 2007. The game's 1999 mode and Elizabeth's reality-shifting abilities have me excited as well.
Get More: GameTrailers.com, BioShock Infinite - VGA 2011: Exclusive Trailer, PC Games, PlayStation 3, Xbox 360
Staff Writer at CinemaBlend.
Your Daily Blend of Entertainment News
Thank you for signing up to CinemaBlend. You will receive a verification email shortly.
There was a problem. Please refresh the page and try again.