Blacklight: Retribution Gets New Map, Double XP Weekend On PS4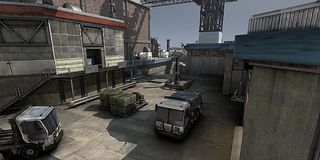 Looking for an extra reason or two to fire up Blacklight: Retribution on the PlayStation 4 and riddle your enemies with bullets? Well, how about a new map to enjoy at no extra charge and a double experience weekend?
We're about a day late on delivering this news, so sorry in advance for dropping the ball. It turns out there's a lot of internet out there and some of the stories occasionally fall through the cracks. Still, Zombie Studios has made a pair of weekend announcements for its free-to-play PS4 FPS, Blacklight: Retribution, and there's still plenty of time to get in on the action.
Zombie producer Kael Hammond recently dropped by the ole' PS Blog to deliver the details on this weekend's festivities, which kick off with another brand new map for players to enjoy within Retribution. The latest stomping grounds are called Seaport and, according to Hammond, they're all about up close and personal combat where players are rewarded for using all the tools at their disposal to get the drop on the opposition.
"Seaport is designed to bring players into the fight quickly with two major avenues of attack," Hammond said. "If you find yourself pinned down, plenty of smaller side paths and routes cut through the port's warehouses. Good use of HRV is critical, since the opposition can take you by surprise quickly if you let your guard down."
For those unfamiliar with HRV, it's basically a badical X-ray vision every player in the game gets to use. The thing needs to recharge after use and you can't shoot while it's activated, so knowing when to bust it out is critical. There's also gear that can make the HRV blind to your goings and comings and, like I said, everybody has it, so it doesn't throw the balance of the game off or anything. If anything, it makes it better. Blacklight is an arcade shooter that's all about getting into the action and staying there. The HRV helps keep the gameflow steady, guiding players to where the most action is going down at any given moment.
As a reminder, Retribution is free-to-play on the PS4, so all you have to do to enjoy Seaport is download the game and get to shooting. Your starting gear is actually pretty decent and, if you want to drop a few bucks here and there, you won't be spending a lot of money to equip your usual favorite shooter loadouts. There's also an in-game currency that lets you rent gear, so you can try before you buy.
To celebrate the new map, Hammond announced that a double experience marathon is going on all weekend long. So jump in, check out the new stomping ground, and earn double XP in the process.
Your Daily Blend of Entertainment News
Staff Writer for CinemaBlend.