Blacksmith Recreates Legend of Zelda's Hylian Shield and Master Sword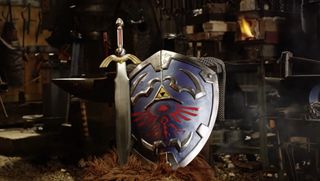 This real-life version of Link's Hylian shield can easily withstand a watermelon attack.
Man at Arms has been recreating iconic armaments since 2013. We've already seen Halo's energy sword, Minecraft's diamond sword, and the Lich King's Frostmourne. But this week, the blacksmithing team is tackling the Legend of Zelda's Hylian shield, and they've thrown in a master sword, just for kicks.
These swordsmiths don't cut any corners. The shield was shaped by hand using a hammer, some scary-looking fire, and several other tools that I've never seen at Home Depot. The shield's borders were cut from sword-grade metal, heated in a kiln, and then formed using clamps and hammers. After everything was welded, the shield was heat-treated for strength and painted. They even attached a triforce made from real amber and silver.
It's all in the details.
As if the shield weren't hard enough, the Man at Arms crew decided to replicate Link's Master Sword as well. A two-handed version was created back in 2013, but Zelda fans have been asking for the classical, one-handed edition. So, Man at Arms obliged.
Reforged is the brainchild of brothers Matt and Kerry Stagmer. The duo founded Baltimore Knife & Sword, which specializes in props and stage-combat weapons. Many of Stagmers' creations can be seen on "film, Broadway, and at renaissance festivals around the world."
If you've never seen a Man at Arms video, you may want to set aside some time and catch up. The original series stared Tony Swatton, a British blacksmith and prop designer. However, after Swatton stepped down from the series, the baton was passed to the Baltimore Knife & Sword crew, which is when Man at Arms: Reforged was born.
Their creations aren't always video game-related, but they are always impressive. When Reforged took over the series, they kicked things off by making several hybrid weapons, like a Frankenstein device that combined all of the Ninja Turtles' weapons and a set of Batman/Wolverine Claws.
However, in the more recent videos, Matt and Kerry Stagmer have returned the series to its roots, making a mace from the Lord of the Rings, a Dragonborn Helmet, and a number of other weapons.
At the end of every episode, the creators swing the weapons around in slow motion, destroying watermelons and various other foods. This time, though, a couple of clay pots are smashed and some Zelda-inspired arrows are fired at the shield.
It's everything you'd expect from a testosterone-fueled, game-centric YouTube series. Enjoy.
Your Daily Blend of Entertainment News
Thank you for signing up to CinemaBlend. You will receive a verification email shortly.
There was a problem. Please refresh the page and try again.