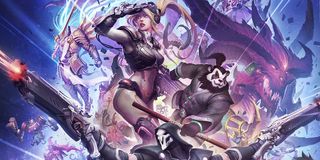 If you're attending BlizzCon 2015 in person or virtually, you'll be able to unlock several in-game items for Blizzard's games. Today the company revealed what exactly those bonuses are.
The World of Warcraft reward is a battle pet named Murkidan. He's a murloc styled after the infamous Warcraft villain Illidan. He's a Humanoid-type pet with a range of demonic abilities at his disposal.
Heroes of the Storm players will get access to a new Nexus Battle Beast Mount. This steed looks like a kodo from WoW but with a futuristic twist. He has a Tron-like color scheme and wears armor he sure as hell didn't get in Azeroth.
Blizzard is giving Diablo 3 a set of three exclusive items. These rewards include the Murkgoblin, an undead murloc that will follow you on your journey, as well as a matching portrait border. The BlizzCon pennant, meanwhile, is a slick tribute to the convention. These items are only available for the PC and Mac versions of the game, though.
Rounding out the BlizzCon 2015 extras are two Legacy of the Void-themed portraits for StarCraft 2 and an icy card back for Hearthstone. You can check them out in the gallery below. All of these bonuses will be unlocked after BlizzCon begins.
BlizzCon 2015 will be held at the Anaheim Convention Center from November 6th to 7th. Attendees will be able to gets hands-on time with the latest Blizzard games, watch various eSports finals, listen to Blizzard developers talk about their projects and participate in community contests.
Tickets to the convention were sold back in April so if you don't have one now, you're probably SOL. However, the Virtual Ticket lets you watch the convention live online for $40. You can watch every event from BlizzCon on-demand for two weeks following the convention as well.
Image 1 of 2
Your Daily Blend of Entertainment News
Staff Writer at CinemaBlend.