StarCraft 2: Legacy Of The Void's Awesome Cinematic Trailer Announces The Release Date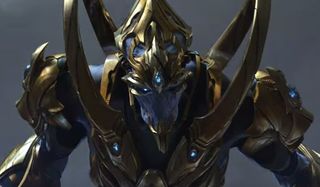 Blizzard has released the opening cinematic for StarCraft 2 expansion Legacy of the Void. In addition to being a fun watch, the video also has some crucial information: the release date.
Legacy of the Void will launch worldwide on November 10, 2015. That might be the most stacked day of the holiday season thanks to Fallout 4 and Rise of the Tomb Raider also debuting on that date. Blizzard seems confident that the StarCraft 2 community is loyal enough to put off those games in favor of the last expansion of the game, though.
Void continues the story from SC2: Wings of Liberty and Heart of the Swarm. This time around, though, players experience the story from the Protoss's point of view. Here's the official story description:
The cinematic trailer shows Artanis and his forces landing on Aiur and dicing up the squatters there. You've probably seen enough Blizzard cinematics at this point to know it's worth checking out.
Digital copies of StarCraft 2: Legacy of the Void can be pre-purchased from Blizzard now. The no-frills Standard Edition is $39.99. The $59.99 Digital Deluxe Edition unlocks the following items for Blizzard games:
Archon battle pet for World of Warcraft
Void Seeker mount for Heroes of the Storm
Protoss card back for Hearthstone
Protoss-themed portraits and unit skin for StarCraft 2
Retailers are also offering a boxed Standard Edition and Collector's Edition. The latter is $79.99 and comes with a hardcover field manual, CD soundtrack, and a behind-the-scenes DVD.
No matter what version you buy, though, you'll unlock a new StarCraft 2 character for Heroes of the Storm. Blizzard hasn't revealed this character yet but said it's a Warrior so my guess is that it's Artanis.
Legacy of the Void is actually a standalone product so you won't need Wings of Liberty or Heart of the Swarm to play it. You'll get access to both the campaign, the new co-op modes and the competitive multiplayer. However, you'll need to buy the other products to access the other chapters of the campaign.
Your Daily Blend of Entertainment News
Staff Writer at CinemaBlend.