Borderlands 2 Digistruct DLC Now Available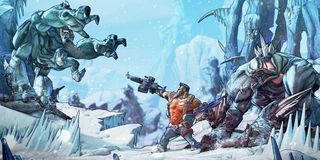 Today Borderlands 2 has received a new round of downloadable content. The biggest add-on released today is the Ultimate Vault Hunter Upgrade Pack 2: Digistruct Peak Challenge, which raises the co-op shooter's level cap for a second time.
The Ultimate Vault Hunter Upgrade Pack 2 allows players to level up to 72. The cap was previously raised to 61 by the first Vault Hunter Upgrade DLC. Like its predecessor, Vault Hunter Upgrade 2 costs $4.99 to download. Unlike its predecessor, it's not free for owners of the Borderlands 2 Season Pass.
Vault Hunter Upgrade 2 unlocks a new area called Digistruct Peak. This area was built as a training ground for the Crimson Raiders. As you fight your way up the mountain, you'll encounter a wide range of enemies. Completing the Peak once will take about an hour.
Fortunately, Gearbox designed Digistruct Peak to be replayable. Once you've hit level 72 and completed the Peak once, you'll get access to Overpower levels. There are eight Overpower levels in total. The higher the level, the deadlier the enemies and the better the loot. At Overpower level 8, you'll be fighting level 80+ enemies and finding gear at about the same level. The new gear you'll find includes a fresh set of Pearlescent weapons and Legendary class mods.
Also arriving today on all platforms are new customization sets. Each class will get a customization set with one new head and one new skin. This collection of DLC includes the Devilish Good Looks Pack for the Commando and the Beatmaster Pack for the Mechromancer. Each head and skin pack is priced at $0.99.
"Fan support for the first Ultimate Vault Hunter Upgrade Pack and the many individual character customization sets continues to be an important part of the overall success of Borderlands 2," said 2K president Christoph Hartmann. "With the game's one-year anniversary on the horizon, 2K and Gearbox remain dedicated to supporting the Borderlands franchise, and will continue offering fans more of the DLC they want this holiday season and beyond."
Gearbox next plans to release a series of Headhunter DLC packs. These three small add-ons will provide players with new challenges. The first is a Halloween-themed adventure that pits players against "Jacques O'Lantern." All three Headhunter packs will be released by the end of 2013.
Image 1 of 6
Your Daily Blend of Entertainment News
Staff Writer at CinemaBlend.