Borderlands 2 Game Of The Year Edition Rumored, Level Cap Upgrade Coming Next Week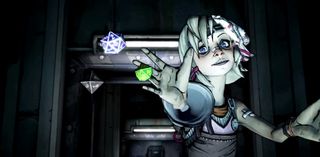 Update: Gearbox has officially announced the Game of the Year Edition. It contains all the DLC specified in the original article and will cost $59.99. The GOTY Edition will hit all platforms in North America on October 8th and then spread to other territories on October 11th.
Original article: If you haven't bought Borderlands 2 yet, you may soon be able to buy an all-in-one bundle of the co-op shooter. A new report suggests that Gearbox Software is preparing to release a Game of the Year edition with all of its downloadable content.
The Borderlands 2 GOTY Edition, according to IGN's source at GameStop, will include all the add-ons released in the Season Pass. They'll battle sand pirates and track down treasure in Captain Scarlett and Her Pirate's Booty. Mister Torgue's Campaign of Carnage tests players' combat skills with a series of deadly arenas. In Sir Hammerlock's Big Game Hunt, the Vault Hunters will travel to the jungle continent of Aegrus to track down dangerous creatures. Tiny Tina's Assault on Dragon Keep, the latest story-based DLC, is a Dungeons & Dragons-inspired adventure set after the campaign. The Ultimate Vault Hunter Upgrade raises the level cap from 50 to 61.
The Game of the Year package also contains the DLC not released as part of the Season Pass. The Creature Slaughter Dome, is a wave-based challenge that provides ample loot. The Psycho is a melee-oriented character that can set themselves on fire and wield a buzz axe. The Mechromancer, the other new playable character, heads into battle with a massive robot at her side.
Being able to get all of the Season Pass and non-Season Pass DLC in one fell swoop along with the base game would be great. The only awkward part of this GOTY bundle is that Gearbox still has more downloadable content planned for Borderlands 2. The GOTY edition might not be the all-in-one compilation that you're hoping for, then.
For example, the Game of the Year bundle may not come with the Ultimate Vault Hunter Upgrade Pack 2. This DLC raises the level cap from 61 to 72. It also introduces a new hour-long mission called Digistruct Peak. The Digistruct Peak's enemy levels can be raised to eight different Overpower levels, each with progressively better loot. Vault Hunter Upgrade Pack 2 will be available on all platforms on September 2nd.
On the other hand, if you're the sort of person who still hasn't bought Borderlands 2, would you be the sort of person who would miss a future DLC pack or two? Plus, Gearbox isn't under any sort of obligation to release a complete package of the game and all of its DLC. That's probably not their objective. It's more likely that they're just trying to drum up a second wave of retail sales for the game before the clock runs out on this generation of consoles.
IGN's report doesn't mention when the Game of the Year Edition will be released. They obtained a picture of a pamphlet for the package, though, which suggests it'll be available sooner rather than later. I wouldn't be surprised to see it in stores sometime this holiday season.
Staff Writer at CinemaBlend.
Your Daily Blend of Entertainment News
Thank you for signing up to CinemaBlend. You will receive a verification email shortly.
There was a problem. Please refresh the page and try again.