Brutal Legend Coming To PC, Multiplayer Beta Launches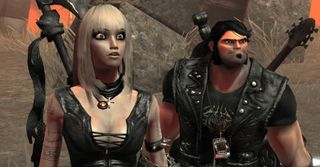 Double Fine Productions' heavy metal adventure Brutal Legend will be making its way to the PC soon. If you pre-purchase the game, you can start playing the beta version right away.
Brutal Legend stars Eddie Riggs, a roadie voiced by Jack Black. After a concert mishap, he's transported to a heavy metal fantasy realm. In this realm, a demon lord Doviculus has enslaved mankind. Eddie must team up with a small resistance group to take down Doviculus once and for all.
The gameplay is a mix of different genres. Eddie is armed with a guitar and axe that he can use to pummel foes in the hack-and-slash segments. He also acquires a hot-rod that lets him explore the open-world and participate in races. Eventually he'll lead the resistance in real-time strategy battles as well. The multiplayer is based on these battles. You can read more about the game in our review of the console version from 2009.
Everyone who pre-purchases the game through Steam will get immediate access to the multiplayer beta. Furthermore, they'll be able to get the game for $15 rather than its launch price of $20. Valve is also throwing in two Brutal Legend-inspired Team Fortress 2 hats, Eddie Riggs' hair and his guitar Clementine, for free.
Double Fine hasn't announced the release date of Brutal's PC version yet. Whenever it's released, it will be shortly followed by the Art of Brutal Legend book. Tis book, featuring a foreword from designer Tim Schafer, contains over 600 pieces of concept art from the game's development. The book can be pre-ordered from Double Fine's online store.
Staff Writer at CinemaBlend.
Your Daily Blend of Entertainment News
Thank you for signing up to CinemaBlend. You will receive a verification email shortly.
There was a problem. Please refresh the page and try again.