Call Of Duty Meets Combat Mechs In Hawken This December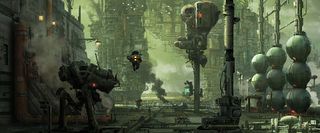 Unreal Engine 3-powered mech combat game Hawken now has a release date. In a new interview, developer Adhesive Games revealed that the free-to-play title will be available for the PC on December 12th.
Hawken takes place on a planet that has nearly depleted all of its natural resources. The desperate situation has led the plane to war. Players are on the frontline of this conflict and pilot armored mechs.
The game is multiplayer-only, with three modes - Team Deathmatch, Free-For-All and "Siege" - confirmed so far. A co-op Horde mode is also planned as well. Adhesive plans to launch the game with seven to eight maps.
"This game has been a labor of love that we've worked on for 18 months," Adhesive co-founder Khang Le told VentureBeat. "There hasn't been a good robot game in a while and nothing that looks like what we're trying to do, which is more like Call of Duty multiplayer."
Adhesive says that Hawken will support itself through the sale of virtual goods. The game is free to download but it will cost real money to buy better weapons, armor, and so on. It's the same basic business model that catapulted League of Legends to global success.
If you'd like to play the closed beta, you can sign up here.
Staff Writer at CinemaBlend.
Your Daily Blend of Entertainment News
Thank you for signing up to CinemaBlend. You will receive a verification email shortly.
There was a problem. Please refresh the page and try again.