Castle Crashers Finally Crashes Into Steam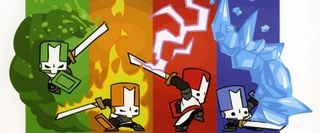 Castle Crashers is finally crashing castles on Steam, meaning PC and Mac gamers can finally see what all of the fuss is about over these adorable little knights in their color-coordinated armor, laying waste to even more adorable baddies in an adorable world full of adorableness.
Honestly, I had no idea Castle Crashers wasn't out on Steam already. A five-year-old title—and extremely successful, to boot—I figured it was on pretty much every gaming device but the Jaguar at this point.
If you happen to be one of those PC/Mac gamers who doesn't own a home console and are still somehow in the dark about Castle Crashers, all you really need to know is that it's a side-scrolling hack-and-slash affair that allows up to four players to team up and kill monsters, swipe loot, cast spells and slay bosses. There are more than 25 characters available for unlock, as well as 40 weapons to discover. You can also have a companion critter follow your character around, and they'll do everything from steal life from your enemies to attacking them head on.
It has taken Castle Crashers a long time to get to Steam and, even though the game would only be a year off from kindergarten if it was a human child, that doesn't mean the initial price point has come down over the years. You can download it on Steam for $14.99 or save a little cash by picking up a four-pack to share with your friends for $44.97. You can also add the Blacksmith and Pink Knight DLC for a couple bucks more.
Pick your favorite color of armor and make sure that sword is sharp, PC/Mac gamers, for tonight you party like it's 2008!
Your Daily Blend of Entertainment News
Staff Writer for CinemaBlend.