Check Out The Different Optimus Primes In Transformers: Rise Of The Dark Spark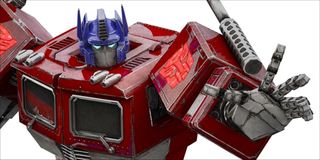 The upcoming Transformers game from Activision and Hasbro called Transformers: Rise of the Dark Spark is aimed at being a tie-in to Michael Bay's new summer blockbuster, Transformers: Age of Extinction.
Pure News caught wind of Activision's recent roll-out of new information on the main character of the upcoming Rise of the Dark Spark... Optimus Prime.
There are a handful of new promo images released that gives you an idea of which Primes you can play and what their motivations are. I just have to say: Cybertron Prime and G1 Prime would absolutely destroy Michael Bay's Prime.
But hey, don't take my word for it. Look how they stack up in the awesome promo posters below.
As you can see, Cybertron Optimus and G1 Optimus look like thick, bad-arse mofos. I also really love how High Moon's design of Cybertron's Optimus has such a close resemblance to the original first generation Optimus from the cartoon series. Talk about rekindling some old-school memories.
Now there's some good and bad news about all three Optimus Primes above: The good news is that you can play all three different versions in the game. The bad news is that you can only play Cybertron Optimus and Michael Bay's Optimus in the campaign mode. Sadly, G1 Optimus is relegated to the multiplayer-only modes. Still, being able to play him in some capacity is better than not being able to play him at all.
Heck, it was the original G1 DLC pack that convinced me to buy Fall of Cybertron in the first place. Check it out below.
The game Rise of the Dark Spark will supposedly take these generational Optimus Primes and pit them against each other: world versus world. This is pretty cool because we get to see Michael Bay's take on the Transformers go against High Moon Studios' take on the Transformers. I'll say this: Bay's version of Bumblebee will own up High Moon's Bumblebee. I think both their Megatrons will tie. High Moon's Optimus would easily win. Bay's Ironhide would win. Starscream would tie. High Moon's Soundwave would definitely win. Bay's Shockwave would win, though.
I don't know, it seems like both have their high and weak points. I'm just ever-so-slightly interested to see how this will play out.
You can look for more info on the upcoming Transformers game by paying a kind visit to the official website and we'll keep you posted on more details as they become available.
Image 1 of 2
Your Daily Blend of Entertainment News
Staff Writer at CinemaBlend.