Creative Assembly Offers Free Total War: Rome 2 DLC As Peace Offering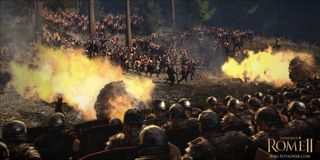 Gamers can fight back and fight back hard (from their cushy armchairs and Lazy-Boy recliners) when they need to. In the case of Total War: Rome II, the latest real-time strategy game from Creative Assembly and Sega, the diehard fans and righteous games for proliferating consumer rights fought back hard when the game first launched due to it being nothing like the way it was advertised.
Well, Creative Assembly has heard the far cries of foul from gamers who pledged fealty to consumer justice, and the developers decided to set a path toward recourse via DLC. Hence, the road to retribution for Creative Assembly is paved with free content and lots of patches.
Blue's News picked up a post on Steam regarding the state of Total War: Rome II following the latest patch from Creative Assembly, which aimed to fix an almost innumerable amount of problems. The main focus of the team at this moment is now to recover some of the goodwill lost due to a poor outing – either because it was rushed or for some other reason.
As noted by Creative Assembly's Mike Simpson...
As noted by Simpson, though, the DLC is only available for free for a week. The content contains the Seleucid Empire, known for civil-engineering and architectural excellence. The DLC sports this faction as a playable option in both single and multiplayer modes, along with brand new technology trees, campaign objectives, the "Paradise of Daphne".
The Nomadic Tribes Culture content regularly costs $7.99 but will be available for free starting right now and lasting through to the next week. This means that you'll need to hurry and grab the DLC for no charge while the offer is available.
It's not a bad thing on Creative Assembly's end to offer new content at no charge. Though, perhaps next time – to avoid a great deal of community drama – they may want to actually pressure Sega not to rush them and finish the game the way it's meant to in order to get out a solid product. Besides, negative press is not always good press, just look at what happened with Day One: Garry's Incident and Wild Game Studios; they'll be lucky if they ever get enough capital to make another game, which is sad, given the way the events transpired in the way that they did.
If you're keen on making good on Creative Assembly's peace offering, feel free to follow through with their olive branch by visiting the official Total War: Rome II Steam page and downloading the Nordic DLC right now, for free.
Staff Writer at CinemaBlend.
Your Daily Blend of Entertainment News
Thank you for signing up to CinemaBlend. You will receive a verification email shortly.
There was a problem. Please refresh the page and try again.