Dark Souls Artorias DLC Is 10 Hours Long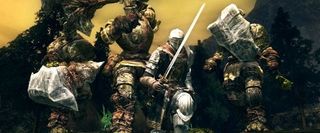 Artorias Of The Abyss, the first downloadable content for Dark Souls, is going to add a significant amount of gameplay to the action RPG. Producer Daisuke Uchiyama estimates that it's 10 hours long.
In Artorias, a darkness from the forests of Oolacile is spreading throughout the kingdom. Players embark on an adventure that introduces new areas, equipment and enemies. Also included in the DLC is a matchmaking system for PvP so that players can engage in quick 1v1, 2v2, and four-player free-for-all battles.
Artorias will ship with the PC edition of Dark Souls when it arrives in August. From Software is so busy with creating this new content and porting the game to the PC that they don't have time to make any other enhancements to that version, sadly. For example, the frame rate problems that appeared in the console editions won't be addressed with the port.
"In terms of the PC version, the quick answer is no, [we won't be fixing the frame rate problems]," Uchiyama told Eurogamer. "Because we wanted to get the PC version out as soon as possible, it's more strictly a port from the console version. We haven't been able to step up into doing any specific optimisation for PC."
Hopefully the port turns out to be competent. Uchiyama mentions in the interview that they've had a "tough time" with bringing the game to the PC. The issue, he says, is that they lack experience with the platform. PC gaming's not as huge over in From Software's home country of Japan.
From Software plans to release Artorias on consoles as well. It will arrive this winter for $14.99.
Your Daily Blend of Entertainment News
Staff Writer at CinemaBlend.