Darkspore Removed From Steam; DRM Errors Prevent People From Playing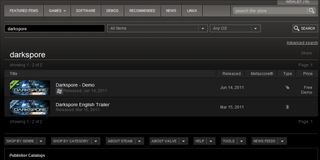 [Update: After some public outcry, some server issues have been fixed and the game is available again on Steam. Purchase with caution]
You know how a while ago warnings were issued about always-on DRM games? Games like Diablo III, SimCity and for a short while Miner Wars 2081, fall into the category of games that will cease to exist once the master servers shutdown for good. You get an example of how this will work with the EA published title Darkspore, which is no longer receiving support, and no longer available for digital purchase from Steam.
Blues has a collection of links from Kotaku (and in case you think they're untrustworthy) a detailed report from Gametrailers and some information from Neogaf all pointing to a very obvious thing: Darkspore appears to be at the end of its life-cycle at some distribution outlets and this means that the game will forfeit its place in the annals of video game history because of the nature of its DRM.
The short end of the story is pretty obvious: Darkspore is riddled with game breaking bugs attached to its always-on DRM infrastructure and gamers are having a hard time trying to play it. In essence, this means that no one can buy and play the game anymore easily, efficiently or conveniently. Just short of EA fixing the game in its entirety and removing the DRM (which is very unlikely) your only other option would be a pirated copy. That last option alone showcases a sad and depressing state of the industry regarding games plagued with this kind of DRM.
Worse yet is that even if you managed to get a pirated copy, reports have filed in indicating that some players are being hit with an "Error 3" message that prevents gamers from saving their character – similar to how even if you play the latest SimCity offline, you still have to go online to save your city to EA's Cloud services.
Yes folks, this is the future of the Cloud. When the company's servers go down, so do your games.
What's more is that Darkspore has been completely removed from Steam, with only the demo and the trailer being left for digital consumption. The reasons for it being removed? Well, on the Darkspore official forums, one of the moderators left this damning message about the potential future of this DRM-doomed title, writing...
Earlier today the post has been updated from "Maxis" and the message above was removed and replaced on the main board with the following...
Whether or not this also fixes the character save error still remains to be seen and the forum board has been tidied up very neat and clean to keep the clutter out of the public's eye.
Now despite the promising message above from Maxis, a very cleaned up forum board still had a message from a very angry customer, going by the handle darksxx, who voiced out about the issue on a simple thread, noting...
It would be pretty funny if Valve allowed for refunds on a game they no longer sell. I should also point out that Valve has yet to officially say if the errors and the inability to actually play the game correctly is why it has been removed from the store. The other explanation could be that EA – like many of their games that used to be on Steam – had the game taken down so that they could sell it exclusively on Origin.
Speaking of Origin... Darkspore is still being sold for $19.99 on the Origin store. The store page shows no indication of the game not working and the system requirements make no hint at the game requiring an online connection or authentication reliance on EA's servers in order for the game to operate. Hmmm.
At this junction, the authoritarian-style DRM services that restrict and prohibit you from enjoying video games is the exact kind of service you want to avoid for a fully finished game or console. If you value your money it would probably be best to stay away from Darkspore, despite the less-than-assured forum post from Maxis regarding the game being fixed.
Staff Writer at CinemaBlend.
Your Daily Blend of Entertainment News
Thank you for signing up to CinemaBlend. You will receive a verification email shortly.
There was a problem. Please refresh the page and try again.