Data Shows Casual Gamers Prefer Mobile Games Over Console Games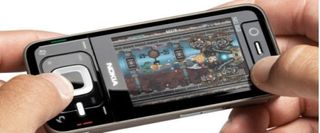 Nintendo and Microsoft could be in serious trouble if they continue to aim at capturing the casual crowd. New marketing data shows that casual gamers actually prefer gaming at home on their mobile devices as opposed to playing on their home consoles.
The new marketing data comes courtesy of MocoSpace, where more than 47% of the mobile users played games at home instead of playing on their home console. Justin Siegel, CEO of MocoSpace commented on the news, saying...
In addition to this, the data further shows that 46% of those surveyed preferred playing more on their mobile device than other device throughout 2011. Only 26% admitted to playing more on home consoles and only 23% admitted to playing more on their PCs. Majority of the mobile gaming users also appear to be women over the age of 30. I guess if you're a guy looking for a gal-mate then all you need to do is look no further than some mobile phone games and you'll be swimming in a full pond of potential mates.
What's more is that out of all those surveyed, 21% of all the participants said they spend at least an hour a day playing mobile games while 24% said they played at least an hour a day on their home console. There's just a 3% difference between the attachment of home consoles versus mobile phones for casual gamers.
So what does all this mean? It means that Microsoft and Nintendo's head-strong dive into capturing the casual crowd is actually a competitive dive because mobile gaming is eating up and saturating the casual market quite steadily. This will more than likely have an impact on attachment rates for stuff like Kinect, especially throughout 2012 and 2013.
While the numbers may seem bleak for major home console manufacturers for grabbing and keeping the attention of most casual gamers, Nintendo is already looking ahead to tap back into the core market with the Wii U. How well that will pan out is anyone's guess. Microsoft, for now, has been mum about future plans for the Xbox brand but for now they have a lot invested in the Kinect, which is actually doing fairly decent.
You can learn more about MocoSpace's mobile marketing data by paying a visit to their Official Website.
Staff Writer at CinemaBlend.
Your Daily Blend of Entertainment News
Thank you for signing up to CinemaBlend. You will receive a verification email shortly.
There was a problem. Please refresh the page and try again.