Destiny Can Be Played Before Launch Day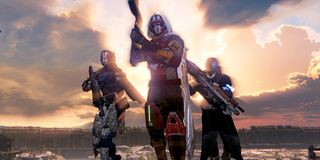 Update: Microsoft has confirmed that Destiny can be pre-loaded on Xbox One. This means they'll be able to take advantage of this early access as well.
Original article: Destiny will officially launch worldwide on September 9th. However, You can play a bit earlier than that depending on where you live in the world.
Bungie said on Twitter that Destiny's servers will go online as soon as the clock strikes midnight. However, they're not going to wait until it's midnight in, say, their hometown of Seattle:
In other words, they're going to turn on the servers everywhere as soon as the clock strikes midnight at the International Date Line. This means that if you're in the United States, you could be playing by the morning of September 8th. Launch time would be about 8 AM EST or 5 AM PDT. That's a full day of early access with Destiny.
Bungie's announcement also implies that they're not going to ban players who log onto their servers before September 9th. That's a typical punishment for gamers playing a new release before its official launch time. Microsoft and Sony issue bans because they figure you must have gotten the game through illegal means to be playing early - a silly policy that rests on the assumption that thousands of retailers throughout the world have all adhered to the street date.
This isn't the first time that a developer has decided to keep their banhammer holstered. Respawn Entertainment opted not to ban gamers who were playing Titanfall early. It's great to see the industry acknowledging that gamers sometimes get legitimate copies early.
Destiny's early access, of course, depends on you getting a copy of the game prior to launch. That's a crap-shoot in many cases. You can't count on Amazon delivering the game on the 8th or your local game shop selling them early by accident.
PS4 and PS3 owners who buy digital copies of Destiny have a good shot at playing early, though. Destiny is one of the first pre-ordered games on either console to be automatically downloaded and installed prior to its launch. Sony hasn't said when preloads will begin on PS3 and PS4. However, I imagine they'll let gamers start downloading the files at least a day in advance so they should be able to play as soon as servers launch.
Gamers buying a digital copy on Xbox One apparently won't get the same opportunity. Microsoft announced at Gamescom 2014 that they're about to introduce preloading to that console. The first game to support this feature is Madden NFL 15 so there's a shot that Destiny, launching weeks later, will have preloading as well.
Staff Writer at CinemaBlend.
Your Daily Blend of Entertainment News
Thank you for signing up to CinemaBlend. You will receive a verification email shortly.
There was a problem. Please refresh the page and try again.