Deus Ex: Human Revolution And More Hack Into PS Plus In June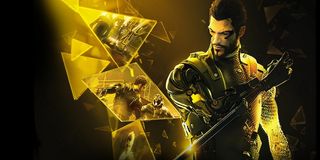 It's the first Tuesday of a new month, which means it's time to take a sneak peek at what content will be coming to PlayStation Plus throughout June, starting today with a full digital copy of the futuristic shooter, Deus Ex: Human Revolution.
Just in time for its impending sequel, PlayStation Plus subscribers will begin the month with a "free" copy of Deus Ex, offering first-person action and shooting goodness in a high tech city where you'll take advantage of nifty gadgets and badass cybernetic enhancements.
Today's PlayStation Plus update also offers a handful of discounts, beginning with Let's Fish: Hooked On for the PlayStation Vita. This arcade angling game will receive a 50 percent discount for the next week, moving down to just 10 bucks. Portal 2 and its In Motion DLC will receive a 40 percent discount starting today, too, with the game moving down to just $9.59 and the DLC moving for $4.79. Finally, Grid 2 receives a 10 percent discount following its launch, down to $53.99.
While there's no telling what types of discounts and extra goodies will pop up throughout the rest of the month, we at least have a roadmap to the rest of the month's Instant Game Collection offerings thanks to a listing on the PlayStation Blog. It's going to be a pretty dang big month.
With Deus Ex available later today, the charming PS3 puzzler, Machinarium, will be available on Plus later this month. That'll be followed by the over-the-top action of Saints Row: The Third for PS3, with two Vita titles also coming down the pipeline including Orc Attack and Zero Escape: Virtue's Last Reward.
Staff Writer for CinemaBlend.
Your Daily Blend of Entertainment News
Thank you for signing up to CinemaBlend. You will receive a verification email shortly.
There was a problem. Please refresh the page and try again.