Diablo 3 Got You Peeved? Keep An Eye On Grim Dawn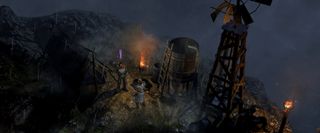 A lot of people were hoping Diablo III would revive the ARPG genre. That Blizzard would unleash a magnificent new entry into the beloved franchise and gamers could marvel in its awesomeness. Well, it's partly true...Diablo III delivered the gaming goods but managed to find itself mired under a myriad of technical issues derived from the always-on environment.
If you find yourself tired of the log-in issues, the latency and ping problems due to region specific servers, the temptations of the RMAH, the exploits and the account compromises, you can at least rest easy knowing that Grim Dawn aims to bring classic, high-quality action-RPG goodness back to PC gaming.
A lot of fans of the first two Diablo games just wanted a fun game to play, either solo or with friends. "Fun" being the bottom line. Blizzard's original games were classified as the pinnacle of loot-grinding goodness, and even spawned clones such as Borderlands (which was directly influenced by Diablo), Titan Quest and Torchlight.
Well, if you're not into first-person shooters and you want something a little darker, grittier and more gothic than Torchlight, then you might want to keep an eye out for the upcoming game from Crate Entertainment, Grim Dawn.
The gameplay that has been shown off looks especially good and the looting looks uber-schmexy. What's more is that the game takes advantage of today's technology; environments will make full use of physics-based destruction, and weather effects will play a part in the overall gameplay mechanics. It's some cool features that many gamers were probably hoping made it into Diablo III but at least now you don't have to worry about the dreadful always-on keeping you from enjoying the game.
After a successful Kickstarter campaign, Grim Dawn is now focusing on bringing the old-school ARPG mechanics into today's generation of gaming, along with cool features such as dual-wielding weapons, a survival mode, a stark and grim atmosphere, technical combat mechanics, and detailed animation and hit-detection reactions. It's sort of the Diablo III a lot of people thought they were getting just without any of the connectivity issues.
The game's open-world play-style and loot 'till you drop incentives will easily make it a standout action-RPG for the ages.
If you're unsure about the game just check out the gameplay trailer below, it'll definitely impress you a lot more than what you might be expecting.
You can learn more and Grim Dawn as well as find out how to nab a beta key to participate in the game's upcoming beta test by paying a visit to the game's Official Website. Pre-orders are also available for those of you who know that you're going to want to own this game as soon as humanly possible.
Your Daily Blend of Entertainment News
Staff Writer at CinemaBlend.