Diablo 3 Reaper Of Souls Coming To PS4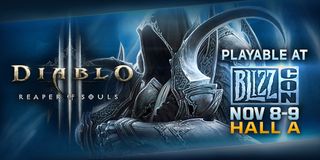 Diablo 3's upcoming expansion Reaper of Souls will be released on PlayStation 4, Blizzard confirmed. Gamers will be able to try out the PS4 version of Reaper as early as next month.
Reaper of Souls introduces a new Act to D3's campaign. Players will travel to Westmarch to face Malthael, the former Archangel of Wisdom. The expansion will also unlock a new class called Crusader, a warrior clad in heavy armor that uses holy magic in battle.
The expansion also provides new options for progression with your existing characters. For starters, the level cap is being raised from 60 to 70. The Paragon 2.0 system will allow you to earn account-wide bonuses after you've hit this cap. The grind for better equipment will become more tolerable thanks to Loot Runs, randomized dungeons with bosses that take 15-20 minutes to complete. The loot drops will be reworked as well so you receive fewer common items and more rares and legendaries.
During BlizzCon 2013, players will be able to log some hands-on time with Reaper of Souls on PS4. According to Blizzard's Twitter account, the company is planning to have a playable version of the PC version there as well.
"In our action-packed single-player and same-screen co-op demos, players will explore the haunted streets of Westmarch as one of our five original classes, or test their mettle as the unyielding Crusader," Blizzard said in an announcement on the PlayStation.Blog. "Attendees of the convention will also be some of the first in the world to take on Death itself using DualShock 4, armed with all-new social features and touchpad technology designed to help keep heroes on focused on what they do best: killing monsters."
D3 game director Josh Mosqueira indicated in August that Reaper of Souls could come to consoles. At the time, though, he said that the development team was currently focused on creating the expansion for PC. The implication there was that console editions of Reaper of Souls were a ways off.
If the new content is already playable on PS4, though, perhaps the console release is closer than we expect. At the very least, perhaps Reaper of Souls will ship alongside the PS4 version next year.
BlizzCon 2013 will be held next month in Anaheim. Tickets are already sold out but you can watch footage of the PS4 version of D3 from your PC or television by purchasing a Virtual Ticket. Both the virtual and in-person tickets will give you access to a range of bonus in-game items.
Staff Writer at CinemaBlend.
Your Daily Blend of Entertainment News
Thank you for signing up to CinemaBlend. You will receive a verification email shortly.
There was a problem. Please refresh the page and try again.