Diablo 3 Season 2 Start Date Announced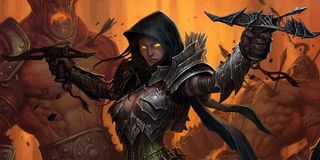 Diablo 3's second season will be starting later this month. Today Blizzard announced the full schedule for Season 1's end and Season 2's launch.
The exact timing for the seasons will vary a bit based on where you live. Here's the timetable posted on the Diablo 3 forums:
Season 1 End
North America: Tuesday, February 3 @ 4:00 p.m. PST
Europe: Wednesday, February 4 @ 4:00 p.m. CET
Asia: Wednesday, February 4 @ 4:00 p.m. KST
Once Season 1 is over, all of your Seasonal characters will be moved into your normal pool. Their progress and items will be preserved as well. You won't be able to use them in Season 2, though.
"All Seasonal Leaderboards will be wiped and you will be unable to attain new Leaderboard ranks until the next Season begins," Blizzard said previously about the season transition. "The results of the previous Season's Leaderboards will remain available for viewing in-game. Once the new Season begins, a handy drop-down menu will allow you swap between the current and previous Season records. Don't forget that you can also view current and past Leaderboards right here on our website."
You'll then have to wait a week-and-a-half for Season 2 to kick off:
Season 2 Start
North America: Friday, February 13 @ 6:00 p.m. PST
Europe: Friday, February 13 @ 6:00 p.m. CET
Asia: Friday, February 13 @ 6:00 p.m. KST
Season 2 has the same general structure as the first one. The player community will create brand-new characters and then try to outdo each other. Leaderboards will track the best players' accomplishments in various aspects of the game, such as Greater Rifts progress.
However, Season 2 will bring new rewards. If you reach max level in Season 2, you'll receive boots and pants for transmogrification. These items match the helm and shoulders you could earn in the first season. Furthermore, you'll get other additional bonuses by hitting certain Achievement points totals throughout the season:
100 Points: Shape
200 Points: Pattern
300 Points: Accent
400 Points: Sigil
If you're looking for more useful rewards, note that you'll be able to find exclusive Legendaries in Season 2 as well. Some of these items are existing Legendaries that have been enhanced with special effects. For example, the bracers Ranslor's Folly will periodically pull enemies toward you.
Conquests, the Season-specific Achievements, are also getting some changes. Blizzard added new Conquests like Worlds Apart that challenge players to kill several bosses in 20 minutes. The Conquests that merely asked players to level to 70 in normal or hardcore mode, meanwhile, won't be returning. The power levelers who found ways to hit level 70 within hours just to top the leaderboards probably drove that change.
Seasons are only available on the PC and Mac versions of the game. Blizzard won't be releasing this feature on PS3, Xbox 360, PS4 or Xbox One.
"A large part of the fun of Seasons is the entire community rerolling heroes together at the same time," Blizzard said last fall. "The offline and disconnected nature of console does not support this style of play. As a result, we do not currently have plans to implement Seasons on console."
Staff Writer at CinemaBlend.
Your Daily Blend of Entertainment News
Thank you for signing up to CinemaBlend. You will receive a verification email shortly.
There was a problem. Please refresh the page and try again.