Diablo 3 Patch 2.1 Seasons Bring Exclusive Challenges, Rewards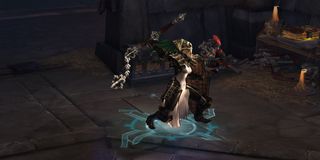 Diablo 3's Patch 2.1 will introduce a new way for players to compete against each other: seasons. Blizzard explained how this feature will work in a new blog post on their website.
In Diablo 3 Seasons, players create a brand-new hero and then try to out-do everyone else in the world. The seasonal characters won't have access to your Paragon levels, gold, stash, or other resources. This means that everyone's essentially starting from zero. The new character can be either Normal or Hardcore.
Your initial goal in each Season is to hit level 70. At that point, you can compete in three ways: completing Conquests, racking up Achievements or progressing as far as possible in the Greater Rifts.
Conquests are Achievements exclusive to one Season or another. They're generally harder than normal Achievements, too. Some of the Conquests they revealed today include killing Malthael on Torment 6 difficulty or beating Acts I through V in one hour at max level. Each Conquest you earn counts toward your total Achievements score for the Season.
The quicker you complete these Conquests, the better. The first 1,000 players to beat a given Conquest will appear on the leaderboard for the rest of the Season. These leaderboards also track the other big races of the Season, including the battle for the most Achievement Points or the best Greater Rift progress.
Even if you're not one of the best players in the world, there's incentive to play Seasons. Seasonal characters will have access to several Legendaries (10 in Season 1) that won't be available in other modes until the current Season ends. You can see a few in the image gallery below.
Furthermore, everyone who hits max level in a Season will unlock a new Transmogrification item for all of their characters. The first season's Transmog item is a helm, seen in the image at the top of the article. The rest of the matching set will be released one-by-one in subsequent seasons.
You'll get to keep your character once the Season's over. The only difference is that you won't be able to use them for a second Season. You have to start over fresh again.
"Your heroes keep all their gear, crafting materials, gold, blood shards, Paragon experience, and any new recipes they may have earned during the course of a Season," Blizzard said in their blog post. "This also includes any new Stash tabs purchased or Artisan levels earned (if higher than your non-Seasonal profile). Finally, if you've managed to earn achievements during a Season that you've never conquered before, you'll earn them in the corresponding non-Seasonal mode."
Patch 2.1 is the first major update to the game since its expansion Reaper of Souls was released. The patch is currently on the public testing realm so you can try many of its features if you're curious. Blizzard hasn't announced a public launch date for 2.1 yet.
While they finish up Patch 2.1, Blizzard is also preparing to release Diablo 3: Ultimate Evil Edition on PS4, Xbox One, PS3 and Xbox 360. You can find out what critics are saying about the new console versions of the game here. Blizzard said that they'll add Patch 2.1 and other post-launch updates to these platforms.
Image 1 of 7