Download Hitman 2 For Free Right Now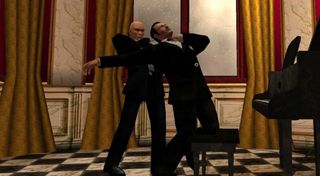 Square Enix is holding a Black Friday deal along with just about every other major retailer across the nation. The only thing is they're holding a digital sale and throwing in some extra bonus goodies along the way, such as a completely free download of the classic Hitman 2: Silent Assassin for PC, which you can grab right now.
PC Gamer spotted the deal amongst other discounts happening on this weekend. In fact, if you head on over to the official Square Enix website to pick up a free digital copy of Hitman 2, you'll also find a few other deals worth checking out as well, including a discount on pre-orders for Avalanche Studios' Just Cause 3, which is due out for PC, Xbox One and PS4 on December 1st in just a few days, as well as the upcoming Hitman reboot.
Of course, if you only want the free Hitman 2 copy, you first have to add it to your cart – it's discounted down by 70% to only $2.10, instead of the regular $6.99. Once you add the game to your cart and head for the checkout you can enter in the promotional code "FreeSilentAssassin" to get the game at no extra charge.
Hitman 2: Silent Assassin isn't the only game discounted. There are a number of console titles as well that gamers might be interested in that are being sold digitally from the Square Enix online shop. For instance, you can get the Final Fantasy Type-0 HD game for Xbox One at 50% off the normal price for only $19.99.
The collector's edition of Final Fantasy Type-0 HD is also available for the PlayStation 4 at 50% off, so instead of paying $100 for it you only pay $50.
The newly released Dragon Quest Heroes for the PlayStation 4 is also discounted by 33%, so you can pick up a copy of the collaborative Dynasty Warriors-style RPG for only $39.99 instead of $59.99. It's rare that a game as new as Dragon Quest Heroes is discounted so steeply when it first releases, but that's what Square is going with.
Other popular titles like Lara Croft And The Temple of Osiris is discounted by 60%, down to only $12.00 for the PS4. The definitive edition of the reboot of Tomb Raider is also available for both the Xbox One and PlayStation 4 for 60% off as well, so you can grab a copy for only $12.00.
Interestingly enough many of these deals aren't too far off from what you would pay for the Steam edition of these games. It's showing that the console manufacturers and third-party publishers have really stepped up their game in what they offer during the holiday sales.
One of the things I found most interesting is that one of the best selling games on Square's digital storefront right now is the PS4 rendition of Final Fantasy X-2 HD Remaster, which is available at 50% off the normal price for only $19.99.
There are a lot of great deals over on the Square Enix online store and you can check out more or pick up a free copy of Hitman 2 by paying a visit to the official website.
Staff Writer at CinemaBlend.
Your Daily Blend of Entertainment News
Thank you for signing up to CinemaBlend. You will receive a verification email shortly.
There was a problem. Please refresh the page and try again.