Dragon Ball Z: Ultimate Tenkaichi Trailer Features Goku Vs Vegeta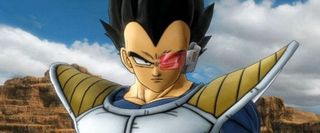 Namco Bandai released a new trailer for Dragon Ball Z: Ultimate Tenkaichi featuring the epic fight that took place between Vegeta and Goku on Earth. The fight is recreated quite nicely and fans of DBZ will get a real kick out of how dynamic and cinematic the new game will be.
Namco has become known for milking the heck out of Naruto and Dragon Ball Z games but fans don't seem to mind. The newest game in the long running line of Dragon Ball Z titles is exactly what the name says: Ultimate Tenkaichi. Anyone who has played any of the Budokai Tenkaichi games just has to imagine all the previous Tenkaichi titles rolled up into one big package, complete with brand new environmental destruction, new detailed character models and revamped special effects. It really is the Ultimate Tenkaichi.
You can check out the new video trailer for Ultimate Tenkaichi below and watch Vegeta and Goku blow the living pixels out of each other and destroy the environment around them as they do so. Dragon Ball Z: Ultimate Tenkaichi is set for release on the Xbox 360 and PS3 beginning October 25th. You can head on over to the Official Website to learn more about the game and its features.
Your Daily Blend of Entertainment News
Staff Writer at CinemaBlend.