Dungeon Defenders 2 Early Access Is Coming To PS4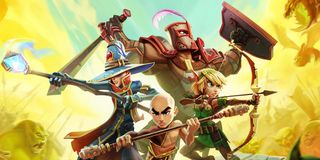 Trendy Entertainment won't be waiting until Dungeon Defenders 2 is finished to bring it to PlayStation 4. Today they announced that a pre-alpha build of the game will be released on PS4 on September 29th.
Philip Asher, marketing director at Trendy, said on PlayStation.Blog that the PS4 version of DD2 will have some features not seen in the current PC build but still has a long way to go before it's done:
Dungeon Defenders 2 is a cross between an action RPG and tower defense games. Players choose between characters with different abilities and team up with up to three friends to stop waves of enemies. They can fight on the front lines and create fortifications to do the job for them. Players can also acquire pets that can assist them on the battlefield.
They've got a fair amount of in-game content implemented on the PC version already. Players can use four heroes and play matches across 13 different maps. There are 18 enemy types in the game currently and one boss. There are also hundreds of items to find and equip.
The full version of Dungeon Defenders 2 will be free-to-play, with optional cash purchases. However, Asher says that you'll need to buy one of three cash bundles to play the early access version on PS4:
Early Access is all the rage on PC these days. Some of the top-selling games on Steam over the past few years such as DayZ, Rust and ARK: Survival Evolved were released to players in alpha form. Early access lets players try out these games well before their "official" launch and get all future patches for no additional charge. The downside, though, is that they're paying for an game with missing or incomplete features. There's also no guarantee that the developers will eventually add everything on their to-do list to the game.
With Early Access becoming so popular on PC, it was only a matter of time before it spread to consoles. Sony hinted last year that in-development games could be playable on PS4.
Staff Writer at CinemaBlend.
Your Daily Blend of Entertainment News
Thank you for signing up to CinemaBlend. You will receive a verification email shortly.
There was a problem. Please refresh the page and try again.