Dungeons Defenders 2 Won't Be A League Of Legends Clone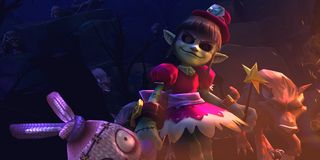 Dungeon Defenders 2 won't be a challenge to the likes of Dota 2 and League Of Legends 2 after all. Developer Trendy Entertainment has decided to cut the MOBA-style, player-versus-player mode originally planned for the sequel.
"We reviewed the project and decided to turn the ship, refocusing our efforts on a true sequel," said studio director Dave Loyd. The development team is using the first game as a guide to building DD2.
"The first thing we needed to do to steer us back on course, was involve the whole crew. We started looking at DD1 and brainstorming. What did we do well and want more of? What did we want to improve? What were the most exciting aspects of making a sequel to the original game? We generated tons of ideas and ultimately created The Five Pillars of Dungeon Defenders II. We define these pillars as axioms, rules by which all game features are assessed, and which must be upheld at all times (Pro tip: expect a future article diving into these pillars)."
In the first Dungeon Defenders, players defend Eternia Crystals from waves of enemies. They have several character classes to choose from, each with their own distinct abilities. Each class can also create and upgrade defensive structure to help fend off enemies. Trendy already planned to include this co-op experience in DD2, but today's announcement confirms that this mode will be the focus of the sequel.
When Trendy first announced DD2, they also said it would be free-to-play. The business model was going to be similar to League of Legends, with optional real-money purchases for convenience items or permanent unlocks of characters. In today's announcement, the company didn't mention whether this business model has changed now that the PvP is gone.
As they build the sequel, Trendy wants fans to weigh in. Loyd says you should share your ideas and feedback through this forum thread.
"I believe that as players, we want to share memorable gaming experiences with our friends. We want to share our ideas and insights with the developers who make the games we love and have our voices heard. As Studio Director, I am working to enable ways for you to share and get involved. Our approach to this reboot of Dungeon Defenders II keeps that principle close to the heart, and we intend to provide even more methods for you to help us mold Dungeon Defenders into a game that will resonate in these very ways. We will be announcing the first initiative toward that goal later this month (Hint: it's around an important date)."
Trendy will have a presence at New York Comic Con this weekend. Gamers are encouraged to stop by booth #556 to meet the developers and also play a pre-alpha version of Dungeon Defenders 2.
Staff Writer at CinemaBlend.
Your Daily Blend of Entertainment News
Thank you for signing up to CinemaBlend. You will receive a verification email shortly.
There was a problem. Please refresh the page and try again.