Dungeon Defenders 2 Early Access Starts In December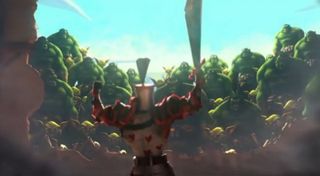 One of the more underrated gems from seventh-gen gaming was Trendy Entertainment's Dungeon Defenders. The game – despite its somewhat abhorrent reliance on expensive DLC trinkets – was a ton of fun. I had a hard time prying myself away from the game due to all of the loot-and-grind replayability. Well, Trendy is back at it with the sequel to Dungeon Defenders and they'll have a playable version available as soon as December 5th, for PC.
Over on the official Dungeon Defenders website the team announced that they have plans to launch the Early Access of Dungeon Defenders II in conjunction with Geoff Keighley's new Game Awards that plans to go live next month in December. The same Game Awards that used to be the VGX. You all remember the VGX, right? That awesome show where Joel McHale single-handedly saved the Dorito Pope from tanking, and it inspired a series of supercuts and cringe-worthy videos to remind gamers exactly why some award shows are pure and utter garbage.
Nevertheless, anyone looking to get in on the Dungeon Defenders II Early Access need not have to wait for very long, because it's coming sooner rather than later. To tempt gamers with a bit of the goodness on the horizon, Trendy Entertainment dropped an Early Access trailer that you can check out below.
What would a big announcement about Early Access, the 2014 Game Awards and a snazzy trailer be without the proverbial press release quote from a reputable member of the design team? It would all be for naught.
Thankfully, Brad Logston, the senior Producer of the Dungeon Defenders franchise, dropped some quotes to pretty-up the announcement and aim to get gamers excited, stating...
For those who may not have kept track of all the drama, originally Dungeon Defenders II was supposed to be a free-to-play MOBA. After receiving tons of complaints about the game no one asked for, Trendy Entertainment went back to the drawing board after scraping a game that received a lot of heat because it was completely not designed with the original fans in mind.
Fast forward a bit and we find out that Dungeon Defenders II will get back to the roots of being about hacking, slashing and cooperative fun.
If you're interested in giving the game a test run, you can look for the Early Access version to go live on December 5th. If you value your money (and you're leery about an over-abundance of DLC) you might want to wait to see how the game develops before diving in head first.
Staff Writer at CinemaBlend.
Your Daily Blend of Entertainment News
Thank you for signing up to CinemaBlend. You will receive a verification email shortly.
There was a problem. Please refresh the page and try again.