Play ARK: Survival Evolved For Free Right Now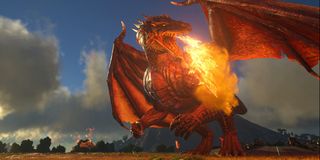 If you haven't tried out survival game ARK: Survival Evolved just yet, this weekend is a good opportunity. The PC/Mac/Linux game is free-to-play through Steam for the full weekend.
In an interesting twist, you can actually earn free copies of ARK while playing. Hundreds of official servers will be hosting an Extinction Event. During this event. you can find special crates that contain Steam codes. These codes, when redeemed, will either give you the game for free or chop 50% off the full price. Other players can kill you and take the code before you redeem it, though.
At 11:59PM EST on Monday, gigantic meteors will land on these Free Weekend servers and destroy them. Studio Wildcard says that your progress won't be lost, though:
The Extinction Event won't happen on the normal Official Servers so current players don't need to worry about their progress being wiped.
ARK: Survival Evolved will also host an "Unnatural Selection" Tournament this weekend. Four-player tribes will battle each other in PvP matches to earn prizes. Numerous tribes will spawn in a circle around a supply cache at the start of the battle - not unlike the start of a Hunger Games. You can go for the loot or retreat to the jungle for safety. Over the course of the two-and-a-half hour battle, the arena will gradually shrink so players will be forced to confront each other.
The "Unnatural Selection" event will begin with 24/7 preliminary matches running from 6AM EST, Saturday August 29th through 11pm EST, Monday August 31st. Three 100-player Official Servers with the prefix "UnnaturalSelection" will be used for these matches. The winning tribes will advance to a Pre-Championship Tournament on September 1st at 10AM.
From there, 36 winning tribes will advance to the 144-player Championship at 2:30PM EST. All of the players who reach this battle will get a $100 gift card for Steam. They'll also be competing for the following prizes:
Championship First Place Winning Team receives: $20,000 split 4 ways
Championship Second Place Winning Team Receives: $10,000 split 4 ways
Championship Third Place Winning Team Receives: $4,000 split 4 ways
"Unnatural Selection" will also give participants a chance to check out some new additions to the game. For example, they'll experience six new Evolution Events that will transform the world around them. They'll also be the first players to encounter the Dragon. The winged beast will be available for taming at the center platform halfway through the battle, though it will only tolerate its rider for a limited time. The dragon will also show up during sudden death to burninate survivors if they're not killing each other fast enough.
ARK: Survival Evolved is the latest game in the survival genre popularized by games like Rust and DayZ. Players wake up naked on a mysterious island called ARK and must do whatever it takes to survive. They'll hunt for food, gather resources, create shelters and research new technologies. They can also tame dinosaurs and other creatures that inhabit the ARK. Other players are an even bigger threat, so you'll have to band together in tribes to defend yourself. The developers recently added mod support so players can create new items, maps and features.
Staff Writer at CinemaBlend.
Your Daily Blend of Entertainment News
Thank you for signing up to CinemaBlend. You will receive a verification email shortly.
There was a problem. Please refresh the page and try again.