Dying Light Season Pass Kicks Off With Cuisine And Cargo DLC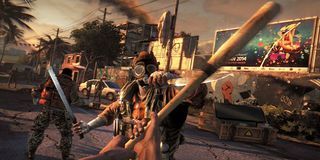 For those of you who feel like you've basically mastered the city of Harran and its hordes of undead monsters, you'll be happy to know that Dying Light is set to receive its first batch of DLC today, kicking off the season pass with "Cuisine and Cargo."
Techland's Dying Light has been an absolute treat to kick off 2015 with. The more I played it, the more I enjoyed it. Perhaps the best complement I can pay the game is that, even after working on a review run for the title, I'm still heading back to its streets to tackle more challenges and destroy more zombies. Few games nail locomotion as well as Dying Light, and that kind of freedom to move around a big, beautiful world keeps pulling me back in for more.
Even though I don't yet need a new reason to boot up the game again, Techland has decided to offer up the first DLC for their first-person zombie survival game, arriving on the PC, PlayStation 4 and Xbox One starting today. It's called Cuisine and Cargo and, according to the official announcement from the developer, it supplies players with "two extremely challenging new missions."
Cuisine and Cargo is available exclusively as part of a season pass for Dying Light, which will set you back $19.99 all told. While today's announcement mentions "new content for many months," we know that this season pass will definitely include an "Ultimate Survivor Bundle" in March and "The Bozak Horde" in May.
"The goal is to let layers enjoy the game well after release with such drops and other free initiatives which are already in the works and will be announced very soon," explained Director Adrian Ciszewski.
As I mentioned earlier, there's already loads to do in Dying Light, so any additional content sounds like icing on an already huge piece of cake. Outside of the story missions, there are dozens upon dozens of side quests and challenges to tackle, along with special challenge maps and all of the resource gathering you could hope for. Oh, and then there are all of those goofy Easter eggs everyone is going ga-ga for.
As for Cuisine and Cargo, these two missions will "let players investigate building sealed off in the very first days of the outbreak," continues the announcement. "Explore the ominous corridors of once the most famous restaurant in Harran, and employ both stealth and combat to ransack a zombie-filled loading bay at the abandoned railroad yard."
The Ultimate Survival Bundle due out next month will give players seven unique items, three new outfit blueprints and some "over-the-top weapons" to help keep killing zombies fresh.
As for May's Bozak Horde DLC, you can expect a new map (Harran Stadium) and horde mode gameplay for both single and co-op gameplay.
Your Daily Blend of Entertainment News
Staff Writer for CinemaBlend.