Dynasty Warriors 8 Headlines Massive Week On PSN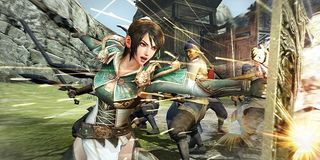 In years past, summer was always a slower time for new video game releases. That doesn't seem to be the case this year, as the PlayStation Network will once again have another packed week once the new update goes live Tuesday, July 15. Oodles of new PSN titles will be available, along with a few niche imports and this week's big hitter, Dynasty Warriors 8.
For those of you who like your history packaged in with some good old fashioned super powers, the Dynasty Warriors franchise might be just what you're looking for. Announced via the PlayStation Blog, Dynasty Warriors 8 will launch tomorrow on Blu-ray and through PSN, offering its over-the-top mix of action-based strategic combat and a little ancient Chinese history to boot. The cast of characters are all based off of actual rulers and warlords and the scenarios and conflicts are ripped straight out of history. Each playable character's ability to unleash army-clearing fury, however, might be stretching the truth a bit. Youcan expect a full Story Mode for each of the game's four kingdoms, as well as new "what if" scenarios that alter the course of history.
Next up is the highly anticipated JRPG, Time and Eternity. Players take on the role of a princess who, after her wedding day is destroyed, must seek to stop the forces of evil threatening her kingdom. In order to do that, she'll have to partner up with the second soul living within her body, giving her access to two separate sets of abilities on the field of battle.
If you're into movie tie-ins, then maybe something like Turbo: Super Stunt Squad will be more your speed, offering an action game based on the upcoming film about a snail that wants to race in NASCAR. Yep...That's actually the premise of the movie.
Zombie fans can revisit their favorite vacation destination on PSN this week with the launch of Dead Island: Game of the Year Edition while Alien Spidy will put you in control of an, you guessed it, alien spider who needs to find her friend and get the heck off of this strange new world called Earth.
Mamoruken Curse! also launches this week, offering a brand new bullet-hell vertical shooter in which a select group of heroes have been asked to restore balance to the Netherworld from the forces of evil. It's a classic genre with a new twist, and that's seldom a bad thing in my book. You could also pick up Shaun White Skateboarding on the PS3 this week, as well as the hidden object puzzle game, Voodoo Chronicles: The First Sign and yet another JRPG, Mystic Chronicles.
Geronimo Stilton in the Kingdom of Fantasy will also arrive on the PSP/Vita this week, bringing its unique brand of puzzling adventure to Sony's handheld consoles. Doodle God will also drop on the Vita this week, alongside the wonderfully titled action romp, Kung Fu Rabbit.
As if that wasn't enough, one of my favorite fighting games of all time will be released as a PlayStation 2 Classic this week, just in time to celebrate EVO. Capcom vs SNK 2: Mark of the Millennium smashes two worlds of fighting games into one, offering 44 characters from both the Capcom and SNK stable of games.
So, yeah, like I said, it's kind of a massive week on PSN. Look for these titles, along with the usual assortment of videos, demos, DLC and more, to be available once the weekly update goes live sometime tomorrow afternoon.
Staff Writer for CinemaBlend.
Your Daily Blend of Entertainment News
Thank you for signing up to CinemaBlend. You will receive a verification email shortly.
There was a problem. Please refresh the page and try again.