Dynasty Warriors 8 Wages War In The U.S. This July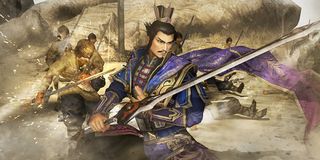 Local fans of the long-running Dynasty Warriors game series can rest easy knowing that the latest iteration, Dynasty Warriors 8, has been given an official U.S. release date. You can look to slice and dice your way through historical Chinese battlefields come July 16 on the PlayStation 3 and Xbox 360.
Tecmo Koei America made the announcement official today, saying that the newest romp through tactical action that is Dynasty Warriors 8 will be headed stateside in just a few months. This latest game follows the continuing stories of the Wei, Wu, Shu and Jin kingdoms as all our factions battle for control of China.
According to Tecmo Koei America, the game will merge numerous replay elements from past games, such as multi-endings and extra modes. Now there will be more reasons than ever to dash across the battlefield, mercilessly laying waste to the countless hordes of peasant soldiers trying to defend their homeland.
"Apart from the Story Mode, which comes with new episodes and characters and takes a deeper look at the drama that unfolds in the Romance of the Three Kingdoms story, Dynasty Warriors 8 includes all new 'What if?' scenarios," reads a statement from the publisher. "Breaking away from historical fact, this mode takes a look at what could have happened if famous characters had lived to fight another day. Stories branch out to different outcomes, providing variety in the course and ending of the game and giving the players the power to view an alternate version of history depending on their choices."
In a game featuring super human martial artists supped up with magical abilities and weapons that can slice through 15 soldiers at once, I'm not sure that historical accuracy was all that important to fans of Dynasty Warriors in the first place, but it's always nice to see such a storied franchise continuing to change things up this late in its run.
Players can expect more than 70 playable characters and more than 40 brand new stages once Dynasty Warriors 8 arrives in the U.S. on July 16.
Your Daily Blend of Entertainment News
Staff Writer for CinemaBlend.
Your Daily Blend of Entertainment News
Thank you for signing up to CinemaBlend. You will receive a verification email shortly.
There was a problem. Please refresh the page and try again.