E3 2014: Star Fox For Wii U Coming 2015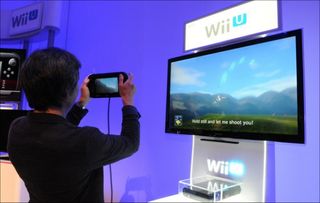 Mr. Nintendo, Shigeru Miyamoto, has been secretly working on a number of unique projects for the Wii U, including Project Guardian, a tower-defense strategy game that's more-so made for multiplay purposes; Project Giant Robot, a game about toppling giant robots in the city; and the last secret game that was not quite as advertised as the other Nintendo titles is Star Fox.
Legendary game designer Shigeru Miyamoto was spotted in a brief clip at the end of Nintendo's E3 presentation and what was on screen? A blurred out image of Star Fox. Check it out below.
So how can we know that it's Star Fox? Because it's already on the show floor of E3, being demoed and played by tons of people over at Nintendo's booth.
In fact, news leaked early courtesy of a piece published earlier in the day by Time. Yes, Time.
Nintendo Enthusiast spotted the article and noted how Miyamoto's special project for the Wii U was on display and partially playable at the biggest video game event of the year.
We learned from the Time's piece that the game will still feature multi-vehicle play that was introduced in the N64 version of the game and advanced upon in subsequent releases.
This time around, however, there will be more than just a ground vehicle alternative to the traditional arcade flying segments.
In addition to all of this, there's a brand new pilot mode designed for two players. It's been described by some early previews as a helicopter vehicle of sorts that enable multiple players to tag-team against the baddies.
Of course, the game isn't just another entry in the long running Nintendo franchise. Star Fox on the Wii U is designed completely and entirely around the concept of the GamePad. Whether people like it or not, Nintendo has invested heavily into the device and have fine-tuned just about all of their games around the reliance and proliferation of the GamePad's functionality.
According to a detailed preview by Kotaku, the game is supposed to launch "within a year" and it will feature single and multiplayer arena modes just like in previous games.
Even more than that, the game will be played via two screens, with the GamePad controlling the targeting controls and the TV screen working as the typical third-person chase view following the star fighter. One thing that Miyamoto told Kotaku is that...
Seems interesting enough.
We won't know how well a lot of these features work out until we get to see more of it in action. Until then, we still have a bunch of other Wii U titles to look forward to launching this September, October, November and December. For more information feel free to check out Nintendo's official E3 site or keep track of our coverage here at Gaming Blend with our E3 2014 database.
Staff Writer at CinemaBlend.
Your Daily Blend of Entertainment News
Thank you for signing up to CinemaBlend. You will receive a verification email shortly.
There was a problem. Please refresh the page and try again.