EA Pulls Prick Move, Sets Expiration Dates For Online Passes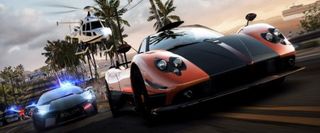 So you know that game you paid $60 for and maybe wanted to play online with friends? You know how you bought the game brand new because of the Online Passes and you didn't want to get gimped with a used copy? Well, it doesn't matter if you get it new or used, EA has set expiration dates for their Online Passes so after a period of time you can no longer access certain online features in their games.
Most gamers out there know that Electronic Arts are no less douche bags than Activision; both companies go out of their way to pretend like they care about video games but instead they're always trying to find ways to screw unsuspecting gamers over. This is exactly what happened with the "Online Pass" EA has been touting as a fight against second-hand sales and piracy.
According to Shacknews, after scouring the EA forums about Online Passes expiring they decided to test it out for themselves with brand new copies of Medal of Honor and Need for Speed: Hot Pursuit. Sure enough, the Passes included with the packages no longer worked. It all started when someone ordered a brand new copy of Need for Speed: Hot Pursuit from Amazon and tried to use the Online Pass provided in the brand new copy, only to find out that the pass code didn't work either because it was incorrect or invalid.
As stated on Shacknews....
The team at Shacknews figured maybe they should give EA the benefit of the doubt and decided that perhaps Sony or Microsoft's digital services "flushed" out old codes as a way of preventing people from finding an exploit with an older code. However, after contacting support for PSN, it turns out that Sony and Microsoft have no say whatsoever with the Online Passes and that it's entirely determined by the publisher of the respective software titles. In other words, EA is completely responsible for the Online Pass codes and whether or not they expire.
There are continued discussions happening over at Neogaf to try to figure out the problem, as well as over at the EA Forums. I'm not sure why people would have to "figure" out what's going on...it's quite simple.
Basically, if you want to play a game online or access specific features, you'll need the Online Pass. After it expires you'll be forced to buy a new one for only $9.99. This enables you continued access to the service almost equivalent to a subscription fee. The main thing is, even if you get the game used, second hand or pirated, EA can still profit from your willingness to access specific multiplayer features from older games when you pay for a new Online Pass code. There's no guesswork to it. It's a prick move and it's just something people have to accept.
Remember, this is also the same company that has a right to shutdown and remove entitlements from your Origin account if it stays inactive for more than two years. This is the same company that said Origin wasn't spyware when it actually is and collects data for EA for marketing purposes and piracy concerns. This is also the same company that will delete and ban users from accessing their Origin account if they happen to get banned from the forums.
If EA didn't publish so many good games from talented developers I would suggest to gamers to boycott them.
Staff Writer at CinemaBlend.
Your Daily Blend of Entertainment News
Thank you for signing up to CinemaBlend. You will receive a verification email shortly.
There was a problem. Please refresh the page and try again.