EA Is Shutting Down Battlefield Heroes And Other Free-To-Play Games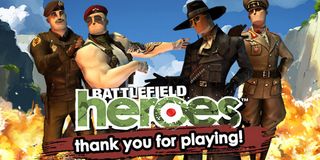 Battlefield Heroes, the free-to-play spin-off of the multiplayer shooter series, won't be around much longer. EA revealed today that they're shutting down the game along with a few other free-to-play titles on PC.
"The war is over! You have fought long and hard but the time for peace awaits us," reads the new announcement on Battlefield Heroes' website. "The Nationals and Royals have finally been able to put the past behind and call a truce. With peace comes an end to a great story, and thus it is with a heavy heart that we must inform you, that on Tuesday July 14th 2015 we will be closing Battlefield Heroes for good and stopping the service in its entirety."
"This is not an easy choice, but we believe the time is right to retire this veteran game. We would like to thank everyone who has supported us throughout the years. It's been a pleasure for us to have entertained you for this long, and we hope you had as much fun playing Battlefield Heroes as we had creating it."
EA announced on their company blog that they're also closing down three other free-to-play PC games: Battlefield Play4Free, Need for Speed World and FIFA World. EA STUDIOS' executive vice president Patrick Söderlund was blunt about the reason for the shutdown: the games simply "are not as popular as they once were." Those games, like Heroes will likewise be shutting down in three months.
While EA isn't obligated to keep an online game running forever, I'm not too impressed with how they're handling refunds for Battlefield Heroes. Their approach to refunds can be summed up as, "NOPE!" Heroes players can spend real-world money on Play4Free Funds, a currency that can in turn be used to buy boosts or in-game equipment. If you have any Play4Free Funds remaining in your account, you're merely "encouraged to spend it before the game is no longer available." In other words, be sure to spend a soon-to-be-nonexistent currency on items that are soon-to-be-nonexistent.
EA hasn't announced any further details on the shutdown of BF Play4Free, Need for Speed World or FIFA World. However, don't be surprised if you're likewise unable to seek refunds.
MMORPG Star Wars: The Old Republic, the biggest PC free-to-play game in EA's portfolio, was spared the axe today. While it never became the World of Warcraft-sized behemoth that some once expected, EA's still happy with how it's performing.
"Star Wars: The Old Republic is a game that continues to have a very enthusiastic and growing player community, and we have plans to introduce more new story-driven game updates to our Star Wars: The Old Republic players this year," Soderlund said.
Your Daily Blend of Entertainment News
Staff Writer at CinemaBlend.