EVGA Has Super Cheap GeForce GTX 460 SE Available In Time For The Holidays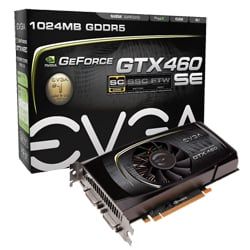 Maximum gaming power pumped from a PC or laptop is hard to accomplish during these economic times. However, EVGA is looking out for the dying breed of hardcore PC gamers, and that's why they have a special deal going on for the new GeForce GTX 460 SE and the SE Superclocked edition.
EVGA sent out word that the new card from Nvidia can be purchased for the same price of an Xbox 360 or PS3…and there's even a special deal going on at Newegg to get the card for a little bit cheaper than the $199.99 price mark. Yeah, now that's super savings.
For those of you that don't know, the GTX 460 SE Fermi-based, super-charged 1GB GDDR5 video card is one of the best available for complete, unfiltered DirectX 11 gaming. You'll be prepared to run the sort of games developers didn't think possible to run at 60fps and you'll not only be the envy of your friends but also of your online rivals as you shred through them with unprecedented high-end tessellation and full-range dynamic shadows and lighting. Yeah, chew on that ATI.
You can grab the GeForce GTX 460 for only $189.99 from NewEgg today, which is actually a steal given that a lot of replacement cards in the GeForce 8x and high 7x series go for about $250 at most online retailers. To learn more feel free to visit the Official EVGA Website.
Staff Writer at CinemaBlend.
Your Daily Blend of Entertainment News
Thank you for signing up to CinemaBlend. You will receive a verification email shortly.
There was a problem. Please refresh the page and try again.