Earthbound, Skyrim Inspired South Park: The Stick Of Truth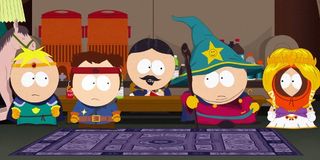 South Park: The Stick Of Truth is being developed by the same studio that brought us Fallout: New Vegas and Star Wars: Knights of the Old Republic 2, but it's actually inspired by a JRPG. Trey Parker, co-creator of South Park, said during a San Diego Comic-Con panel that SNES game Earthbound was one of the main influences on Stick of Truth.
"We're big gamers and I think what was inspiring the game was a lot more lofty than what we could pull off," Parker said (via Destructoid). "I was a big fan of it and what I kept thinking in my mind was EarthBound."
"I haven't played [EarthBound] again in forever, but I just remember something being about 'Oh wow, I'm a little kid in a house and there's my mom and I go outside my house and I'm fighting like an ant and a little mouse.' It started out feeling so real. I kept having in my head 'Do I really want [South Park: The Stick of Truth] to feel like that you are a little kid and you're playing this game and bigger shit ends up happening?' But I really loved that feeling that EarthBound had of I'm a cute little kid in my neighborhood and we're running around playing a game.'
Earthbound begins with a meteorite crash-landing outside the small suburban town of Onett. Ness investigates the crash site and learns that an alien known as Giygas has arrived on Earth and will conquer the planet in ten years. He has to stop that from happening by collecting eight melodies from across the planet and confronting the alien.
Stick of Truth starts out in a humble way as well. Players take on the role of "the new kid" who has just moved to South Park. Any anxiety about a new town is soon replaced with a much more urgent matter: the stick of truth. The stick has been stolen by elves and the new kid must apparently retrieve it. He'll be accompanied by South Park's main characters on this journey.
Other inspirations for Stick of Truth included Paper Mario, because of its mixture of 2D and 3D visuals, as well as Legend of Zelda, because of its silent protagonist. Parker admitted that playing Elder Scrolls V: Skyrim was a big influence as well. Skyrim's grand scope led them to make the game a bit too big at first, though. The initial script for Stick was over 850 pages and included nearly every character from the show. They eventually had to chop the game down to size so it would be finished before "holiday season 2032."
Following a few delays, Stick of Truth was scheduled for a spring release this year. However, it's now targeted for a fourth-quarter 2013 launch due to previous publisher THQ going bankrupt. Ubisoft subsequently purchased the rights to the game through an auction.
If you want to play Earthbound to see what inspired Trey Parker and Matt Stone, you'll be pleased to learn that the game hit the Wii U Virtual Console yesterday.
Staff Writer at CinemaBlend.
Your Daily Blend of Entertainment News
Thank you for signing up to CinemaBlend. You will receive a verification email shortly.
There was a problem. Please refresh the page and try again.