New Edition Of Xbox One Was Created By Iron Man, Watch The Video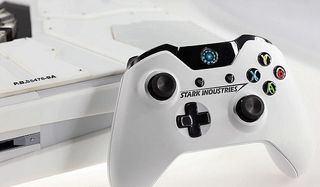 Just in time for next week's launch of Captain America: Civil War, it looks like Microsoft has already chosen a side. Get ready for the Iron Man-themed Xbox One.
Boasting Stark Industries branding a glowing blue core in both the controller and at the heart of the Xbox One console itself, this is just the latest in a growing line of specialty consoles being made available by Microsoft. But while all of those details are nifty, we're kind of scratching our heads over the *ahem* stark white finish. We're thinking it would have made more sense to have the console sport a color scheme that looks, I don't know, anything like an Iron Man suite? Maroon and gold would be a good starting place.
That aside, it's certainly a cool-looking take on the Xbox One that's sure to make your friends jealous the next time they come over for game night. And with Civil War dropping in just seven days, it certainly makes a strong statement as to which team you'll be rooting for.
This Iron Man rig is only the latest specially designed console to come out of Microsoft, however, as the publisher has also launched Xbox One consoles themed after both Halo and Call of Duty in recent years. We're going to go out on a limb here and speculate that a Gears of War console is likely in our future, too.
According to the console's background information, Tony Stark himself helped design the new console. Whether or not you choose to believe that is entirely up to you. We won't judge.
Unfortunately, if you want one of these bad boys, you're going to have to work really, really hard to get it. Only three were made, apparently, and the French branch of Microsoft will be giving one away through social media sites including Facebook, Twitter and Instagram. It might be tricky to figure out how to even enter for a chance to win, if you don't speak French. And even if you did enter, your chances here are going to be pretty-dang slim.
Assuming you could get your hands on one, though, how do our readers feel about the design? Are we being too picky about the white finish, or would something else perhaps look better than bright white? That glowing arc reactor at the center is pretty cool though, yeah? Fill us in on your thoughts in the comments section below. And, heck, you might as well tell us who you are rooting for in Captain America: Civil War, too. Just, please, remember to keep any chatter spoiler-free.
Staff Writer for CinemaBlend.
Your Daily Blend of Entertainment News
Thank you for signing up to CinemaBlend. You will receive a verification email shortly.
There was a problem. Please refresh the page and try again.