Halo 5 Warzone Firefight Beta Is Coming, Get The Details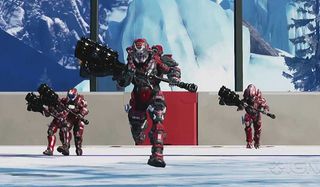 The team at 343 Industries is finally gearing up to unleash the Warzone Firefight multiplayer mode across Halo 5: Guardians, but not before testing the waters in an upcoming beta.
One of the most highly anticipated additions to come to the Halo universe in quite some time, Warzone Firefight is a creative new mode that pits teams of players against a map that also happens to be overrun with AI-controlled armies of enemies.
You could think of this as Halo's answer to a horde mode, only upping the meaning of the word "horde" by quite a bit. If you look at some early footage for the mode, there's a heck of a lot going on at once.
According to 343 Industries, the Warzone Firefight beta will only be open for a brief window, running from April 14-18. In the beta, teams of eight will drop into the Escape from A.R.C. map in order to do battle against extremely formidable odds.
After this first taste of Halo 5's big new mode, you'll have to wait until this summer before Warzone Firefight officially launches. Still, you've got four days to take it for a test drive, so don't waste them.
This news comes hand-in-hand with the latest addition to the Halo 5 universe, as 343 this week also launched the Ghost of Meridian DLC. This latest content adds in a pair of new maps, including Skirmish at Darkstar, which looks like a concentrated but vertical battle at a shoddy outpost, and the new arena map, Tyrant.
As for Warzone Firefight, 343 is calling this mode an introduction of PvE to the Halo universe, due to its scope. But similar to the Warzone competitive mode, cooperative players will still be able to utilize Requisition Packs, which allow them to call in special ability boosts, weapon drops and vehicles that will help turn the tide of battle.
Honestly, this all seems a bit like Destiny, both on a smaller and simultaneously larger scale. I say smaller because Warzone Firefight is delegated to certain maps and rounds, rather than dropping players into a massive dynamic map. It's bigger, though, in that it allows up to eight players to work as a team, which is a pretty hefty increase on most games' cooperative modes.
If you have any predictions or expectations concerning this latest addition to Halo 5, we'd be happy to hear them in the comments section below. Are you planning on playing the beta? Excited for the final launch of the mode? Give us the details.
Staff Writer for CinemaBlend.
Your Daily Blend of Entertainment News
Thank you for signing up to CinemaBlend. You will receive a verification email shortly.
There was a problem. Please refresh the page and try again.