Epic VP: Unreal Engine 4 Demo Makes Samaritan Look Feeble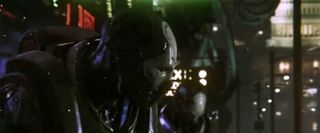 Some big words from the vice president and co-founder of Epic Games. Mark Rein finally broke silence about what select press and Unreal Engine licensees were shown at this year's Game Developers Conference regarding the Unreal Engine 4.
According to Side Mission Epic Games was running the Unreal Engine 3 Samaritan demo once more, only this time on a single Nvidia Kepler prototype. The card is said to be the next-generation of high-end GPUs and according to Vox Gamers can also run the Unreal Engine 4 demo in real-time.
For those of you who don't remember, it was revealed that the Samaritan was running on three over-clocked 580GTX cards. The computer itself was estimated to cost more than $2,000 in order to run that demo in real-time. The demo contained lots of advanced lighting, volumetric effects and dynamic physics.
This year's Samaritan demo, however, was highly optimized and according to Epic's Mark Rein, it could be running on a laptop next year or a smartphone the year after. This is where Rein pointed out that the UE4 demo will make the Samaritan look feeble by comparison and will generally be crap next to what they show off for the next generation engine, saying "Imagine if that were a piece of crap, what would the next thing look like?"
I don't know Rein, but I can imagine a lot better things than crap, so it's a little hard to pinpoint just how amazing the Unreal Engine 4 will look.
Your Daily Blend of Entertainment News
Staff Writer at CinemaBlend.