Evolve DLC Announced, Xbox One Preload Now Available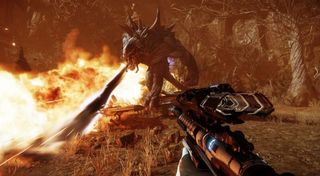 2K Games rolled out an extremely detailed list of pre-purchase options for the upcoming first-person, asymmetrical multiplayer shooter, Evolve. The post-launch DLC for the game is rather extensive and there's some content that will be exclusively available to Xbox One owners who pre-order the game.
A bevy of downloadable content was revealed over on the official Take-Two Games website. Anyone who pre-orders the digital deluxe version of the game will gain access to the main Evolve game, the season pass and the monster expansion pack.
So what's included in the monster expansion pack? A Behemoth... the fourth playable monster in the game. There's also an extra Savage Goliath skin that will be available at launch.
The digital deluxe version of the game is available right now for pre-purchase for Xbox One owners and PC gamers. Pre-purchase will be available soon for PlayStation 4 owners.
Speaking of PC gamers, a special PC Monster Race Edition of Evolve was also unveiled (2K's nod to the Glorious PC Master Race). The package contains $131 worth of content jammed into a $99 bundle. You get the main game, the season pass, the monster expansion pack, and free additional content when it becomes available, such as a fifth playable monster (not the Behemoth), two extra hunters, and four monster skins.
So what do you get in the season pass? You get four new playable hunters, one for each class. You get three monster skins at launch, which includes the Magma Goliath, Magma Kraken and Magma Wraith. You can also purchase the content separately from the season pass – with each character going for $7.49 each.
Xbox One owners get real special treatment by being able to pre-load the game leading up to its release on February 10th. This means that anyone who pre-purchases the game can start loading it up right now. You can't play it (unless you join the beta) but you can start knocking the multi-gig download out of the way early.
As for the beta... Xbox One owners will gain access to an exclusive open beta for Evolve that gets underway on January 15th. If you haven't signed up right now, it might not be a bad time to do so. Play-testing a game before you commit to a purchase or gaining a look at the title definitely helps in making an informed purchase.
Evolve hasn't really been the kind of game that tickles my fancy all that much. It has yet to win me over with what I've seen so far. The problem isn't the game's concept – I think the idea of a competitive, asymmetric multi-shooter is pretty cool. It's a lot like the versus modes in Left 4 Dead. My main issue with the game is the sparse lack of gameplay mechanics. A lot of it is still the typical run-and-gun stuff we've seen a million and one times before. Of course, gamers who may not have been hardcore shooter fans during seventh gen may find Evolve's approach refreshing.
As for all this pre-purchase and DLC news? It looks like a lot of money being requested of consumers for an untested product. I'm not fond of all the upfront payments and pre-purchase commitments that some games have.
of course, if you don't mind it all then it's all fine and dandy. You can learn more about the deluxe edition and the DLC over on the Evolve website. Anything gamers unlock on the Xbox One version during the open beta will carry over into the final version when it releases on February 10th, next month.
Staff Writer at CinemaBlend.
Your Daily Blend of Entertainment News
Thank you for signing up to CinemaBlend. You will receive a verification email shortly.
There was a problem. Please refresh the page and try again.