E3 2014: Evolve Gameplay Video Details Skills, Map Layout, Teamwork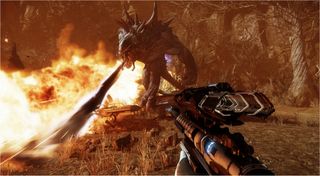 A new gameplay video has surfaced to further expand on one of the creatures and maps in the game called "The Kraken". 2K Games and Turtle Rock Studios let loose the new video that follows up on their original E3 teaser that aired during the major platform conferences.
TwoSixNine269 managed to get their hands on the new video and it features four minutes of four-player co-op action against another player who is in control of the Kraken, putting on full display the asymmetrical multiplayer that Evolve is built around.
The original E3 trailer from last week was only a minute long and was more-so just a teaser for some of the upcoming features due for release in the new-school competitive shooter. You can check it out below.
The newest video expands on the concepts that we saw teased at E3 by giving gamers a strong idea of how the match starts and then eventually evolves into a full blown monster hunt.
I originally liked how the monster-character has to farm some other NPC creatures roaming about the arena, either to buff up or replenish health, and how the four players have to work together to hunt down and track the whereabouts of their nemesis.
If the maps are big enough and the diversity of the map layout will afford for it, being able to stalk around and hunt players as a creature could be pretty cool. The main idea is that there will need to be enough ins-and-outs through every avenue to afford for non-linear match progression.
My only and biggest concern is a concern that other games share as well: a lack of visually procedural damage.
The technology is definitely there, as evidenced with Nvidia's DX11 tessellation capabilities or even the crude forms of mesh deformations that were introduced in the early Unreal Engine 3 iterations with games like Legendary: The Box.
It doesn't matter that Legendary wasn't very good, what matters is that for a game that focuses solely on fighting a single monster for the entire length of a match, it needs to feel progressive and it needs to feel dynamically engaging and intense. Seeing holes in the Kraken's tentacles or splotches of monster plating charred or destroyed from the gunfire would go a long way in selling the entertainment qualities of this title. That's not to mention that it's only a five-player match, so it's not as if resources are strained with things like Frostbite's levolution or having 64-players simultaneously wrecking havoc in a match.
Hopefully this is the one thing that gets sorted before Evolve's October 21st release. Given that this isn't a cross-gen game, I'm hoping that Turtle Rock takes full advantage of the new hardware without holding anything back.
You can learn more about Evolve by paying a visit to the game's official website.
Staff Writer at CinemaBlend.
Your Daily Blend of Entertainment News
Thank you for signing up to CinemaBlend. You will receive a verification email shortly.
There was a problem. Please refresh the page and try again.