Fallout 4 Players Can Unlock Special Dota 2 Announcer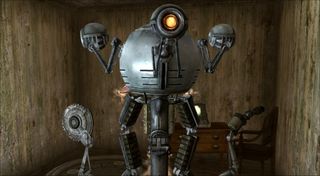 If you really want to take your Fallout 4 experience to the next level and have Bethesda's game invading other games, you'll likely want to get in on the Fallout 4 announcer pack for Dota 2. The promo is currently going on right now and will last through November of this year.
Over on the Steam store page there's a small section about a promotion involving a Mr. Handy announcer pack for Dota 2, Valve's popular free-to-play MOBA title. The announcer pack will join the likes of other announcer packs for the MOBA, giving players play-by-play of kills and events taking place in a match, all voiced by the wasteland butler, Mr. Handy.
The store page explicitly makes it clear how the announcer pack will be made available and when, stating...
So for those of you worried about having to be pulled into the obligation of pre-purchasing the game... don't worry about it because that's not required. Instead, you can just pick up a normal digital copy of Fallout 4 from Steam and still have access to the Dota 2 announcer pack.
This doesn't really add anything to those who are strictly interested in Fallout 4, it's only for those who are interested in Bethesda's upcoming action-RPG who also happen to play Valve's MOBA. Otherwise if you're strictly interested in just one or the other, it's easy to ignore the promotion and go on about your day.
Fallout 4 is being pegged as one of the biggest new releases of the holiday season. While Nielsen Media research have estimated that Assassin's Creed Syndicate and Call of Duty: Black Ops 3 have equal or higher anticipatory appeal than Fallout 4, all the gaming circles seem to be completely head over heels for the upcoming open-world RPG set within a post-apocalyptic Boston, Massachusetts.
The game features all new characters to interact with, new locations to visit, and new ways to upgrade and enhance your character.
The entire character creation system has been overhauled, using a cool new character creator tool at the beginning, that allows players to choose between a male or female protagonist, as well as give them a distinct look. What's more is that the character creation tool was used to make all of the inhabitants of the wasteland, so whatever Bethesda was able to create you'll be able to create it too.
Mods will also play a big part in the game and for the first time console gamers will be able to utilize official modding support thanks to Bethesda implementing the tools for such interactivity. The Xbox One will get the mod support first, followed by the PS4. Unfortunately for console gamers, only PC gamers will be able to get their hands on the Mr. Handy Dota 2 announcer pack.
You can look for Fallout 4 to launch for home consoles and PC starting November 10th.
Staff Writer at CinemaBlend.
Your Daily Blend of Entertainment News
Thank you for signing up to CinemaBlend. You will receive a verification email shortly.
There was a problem. Please refresh the page and try again.