Fallout Shelter Is Now Being Advertised On Tinder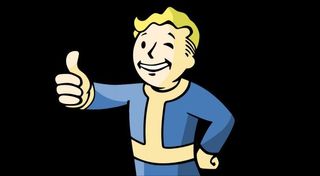 Bethesda has an official Vault Boy profile on Tinder, the online dating service. The profile has garnered quite a bit of attention for being on the popular dating service and has actually led to a lot of people attempting to find out if it's real. Yes, it's real.
According to Kotaku, Bethesda is using the Vault Boy profile on Tinder as a way to advertise Fallout Shelter. Attempting to do anything more than look at the profile will take you to the Fallout Shelter website.
They've even managed to follow it up with a hashtag called #DateADweller. It's used to advertise photos of the vault dwellers and give gamers (or potential Tinder users) a gander at some of the potential mates roaming through the shelter that is the last bastion of humanity.
This move isn't entirely foreign, though. According to Erik Kain from Forbes, movie studios have also used this tactic – advertising fake profiles on Tinder to garner attention – when the character from the movie Ex Machina appeared on Tinder. Ava was labeled as a 25-year-old near New York.
While this whole thing might seem kind of silly, the reality is that Fallout Shelter is hot property right now, and thousands of gamers are absolutely head-over-heels for the mobile game as it bides them time until Fallout 4 arrives.
That's not to say that Fallout Shelter is a throwaway mobile game, because it's not. It features enough content to actually gain some amount of enjoyability out of it, especially with the micromanaging aspects and the ability to grow your fallout shelter by keeping people happy and hooking them up with each other as you attempt to keep them safe and alive following a nuclear war.
Fallout Shelter was announced at E3 this year during Bethesda's stage conference, where they not only revealed the game's features but also announced that it was available that very same night. Even more than that the highlight of the night was the half-hour footage they showcased of Fallout 4 ahead of its November release.
Fallout 4 offers gamers tons of new content, an even larger Boston area to explore, new weapons, improved AI, all new crafting abilities and the brand new feature to build a house and settlement. The game is already one of the most hotly anticipated titles of the year and Bethesda has done everything right in promoting it so far, including using Fallout Shelter as a buffer to keep the hype train running. Part of that buffer now includes having a profile on Tinder where gamers and non-gamers alike can come across a 25-year-old Vault Boy who likes putting out fires, taking coffee breaks, collecting bottle caps and drinking Nuka Cola.
The profile is still up at Tinder at the moment, so if you're curious to learn more about Bethesda's endeavors to tap the popular online dating scene with their mobile time-management game, you can do so right now.
For anyone interested in Fallout 4, you won't have to wait too long because the game is set to release this November for the Xbox One, PS4 and PC. As for Fallout Shelter, the mobile title is available right now for Android and iOS devices.
Staff Writer at CinemaBlend.
Your Daily Blend of Entertainment News
Thank you for signing up to CinemaBlend. You will receive a verification email shortly.
There was a problem. Please refresh the page and try again.