Fallout TV Show In The Works?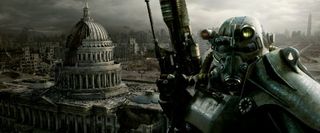 Fallout may be branching into television soon. A new trademark filing from Bethesda Softworks suggests that the publisher is considering a show based on their popular RPG series.
The US trademark application (via Eurogamer) was filed on January 8th. Here's the description of what the trademark covers: "Entertainment services in the nature of an on-going television program set in a post-nuclear apocalyptic world."
This might not mean anything. Bethesda could have zero interest in making a TV show. They might be merely trying to prevent someone else from making a post-apocalyptic show and calling it Fallout.
Still, the timing is curious. About a day after Bethesda filed the trademark, Fallout 3 voice actor Erik Todd Dellums said he might be reprising the role of "Three Dog" soon. We assumed that he was talking about Fallout 4. However, maybe he's actually part of the cast of this new show.
I'm interested to see how this TV show would fit into Bethesda's plans for the next Fallout game. Will it bridge the story of Fallout 3 and Fallout 4? Or will it tell a completely different story?
Staff Writer at CinemaBlend.
Your Daily Blend of Entertainment News
Thank you for signing up to CinemaBlend. You will receive a verification email shortly.
There was a problem. Please refresh the page and try again.