Farming Simulator Coming To Xbox 360, PS3 In September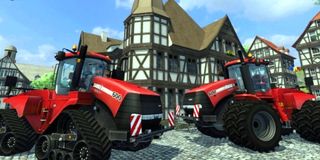 The latest iteration of Farming Simulator is heading to the PlayStation 3 and Xbox 360, bringing with it all new enhancements, content, and even a map based on U.S. farmsteads. To celebrate, the developers over at Giants Software have put together a special "Summer Trailer" to highlight all of the new features and content that will be made available on consoles.
I love unexpectedly stumbling upon a game series that's managed to stay under my radar for quite a while but, unbeknownst to me, is actually something of a phenomenon. Farming Simulator, as it turns out, has a massive following. Despite that fact, I'm somehow only just now hearing about the game. I saw comments a few weeks back pertaining to the PlayStation Vita demo for the game and foolishly assumed folks were being sarcastic when expressing their excitement for the game. I'm all for farming/life simulators, but I assumed that the amount of love this particular game was receiving was simply too great to be legitimate.
As it turns out, I was dead wrong. Farming Simulator is "kind of a big desl," it's loved by the modding community, and if you search for the game on Youtube, you'll discover hundreds of hours' worth of footage wherein wannabe farmers go into great detail about their agricultural exploits.
Now Giants Software has announced that Farming Simulator will be coming to both the Xbox 360 and PS3 in the "first week of September," meaning the adoring community will have more ways than ever to enjoy their time on the farm.
"An entirely new American backdrop has now been added to the extensive European environment familiar to PC players, which will double the size of the gameplay area in Farming Simulator," reads a statement from Giants Software. "Inspired by typical American farms, this new and monumental terrain represents a total change in scene, with new locations, fresh development opportunities for your farm and even bigger fields suitable for the largest agricultural machinery available in the game."
All sorts of new vehicles/machinery from world-famous manufacturers will make an appearance, though the developer promises that the game "still retains all the elements that made the Farming Simulator series so successful by conveying the finer points of agriculture and life on the farm."
If you're one of the surprising number of people who have been waiting to build your virtual farm on a home console, it looks like you'll finally have your wish fulfilled in early September.
Image 1 of 6